<!- Big shouty intro >
Begin your
journey!
"Hi I'm Nick, a personal trainer in Sheffield. I've helped hundreds of people lose weight, build muscle, and improve their fitness. With over 10,000 hours worth of coaching experience I know EXACTLY what I'm doing to help you achieve your goals"

Find out more

View packages

<!- Big circular links >
Voted the best personal trainer in Sheffield…
Here's what LEP Fitness members had to say about their experience…
---
COVID-19 UPDATE – ARE YOU OPEN?
You're probably thinking…
Are personal training studios open?
What am I allowed to do?
When do gyms reopen?
Well, the good news is that LEP Fitness is open.
In the short video below, I explain:
Your Options – the 3 training options you have available to you right now
Health and Safety – how I'm going to keep you safe while working together
How to Book In For Sessions – so we can start working towards your goals
---
FREE VIRTUAL PT SESSION…
You can do virtual personal training sessions in the comfort of your home. Here's what clients have to say about their virtual PT experience…
I'd also like to offer you a FREE virtual PT session to give you a boost during this challenging period – book your free session here.
In a world full of uncertainty, the one thing you can rely on to lift your mood is a feel-good workout. A workout that makes you feel good both inside and out…
---
CHANGING LIVES…
"I've been working with Nick for the past three months. It's been a life-changing experience. I'm healthier, fitter, and happier than ever before. I feel great after every session, now that I've started training, I don't think I'll ever stop."
"After two years of invasive cancer treatment, which had dented my self-esteem and body image…
Training with Nick not only helped me get fitter, stronger (and look fabulous in my wedding dress) – but the emotional strength I gained from the sessions helped me enormously.
I've gained confidence, and self-belief, which after a life-threatening illness, is one of the toughest things to overcome psychologically. Nick is such a genuine and sincere guy. I would recommend him as a personal trainer to anyone."
WOULD YOU LIKE TO SEE SOME OF OUR BODY TRANSFORMATIONS SO YOU CAN SEE WHAT'S POSSIBLE?
Ben arrived at LEP feeling sluggish, demotivated, and unhappy with his body shape. He went to the gym but failed to see any results.
Fast forward 12 weeks of training with LEP Fitness and Ben is now in the best shape of his life. He likes what he see's in the mirror and is addicted to working out.
Before starting with LEP Fitness, Rachel was trapped working long hours…staring at the computer screen, snacking throughout the day, and heavily reliant on caffeine. This lifestyle was weighing her down, both mentally and physically.
Fast forward four months of coaching…56 lbs lighter (4 stone down). Rachel is now happy with her body and work-life balance.
Would You Like To Find Out More About How We Can Help You? Please Enquire Below…
---
AN UPLIFTING FITNESS COMMUNITY…
When you look in the mirror, do you like what you see?
Do you even look in the mirror anymore? Or do you find it hard to face?
If you're struggling with the above, please don't worry, you're not alone.
The good news is that we can help you. We've helped hundreds of people in Sheffield just like YOU – please check out the hundreds of testimonials from the LEP tribe.
BUILDING CONFIDENCE INSIDE AND OUT | BODY TRANSFORMATION SHEFFIELD
Would you like to transform your body shape, lose weight, drop unwanted body fat, and firm up without it taking years?
Would you like to get into shape so that you can lead a more confident and fulfilling life?
If you said YES, please read on, especially if you've had enough of not seeing results from gyms, fitness classes, boot camps, personal trainers, diets, and other supplements that you may have tried in the past…
TWELVE BENEFITS OF JOINING LEP FITNESS…
#1 Friendly Atmosphere: no more BIG burly fitness brutes slamming weights about and making you feel intimidated. You get to train in a supportive and friendly environment.
#2 Human Connection: Working out alone can be lonely and boring, especially when you're following some generic online fitness app or training in a commercial gym. We understand the importance of human connection, and we're fully committed to helping YOU succeed.
#3 Private Personal Training Gym: Nobody is staring at you and making you feel uncomfortable. Also, you don't have to queue for machines like you would during peak hours at the gym.
#4 Emotional Support: We know life can be tough at times, AND we'll be there for you every step of the way, helping you to overcome any challenges and roadblocks that stand in your path.
#5 Experienced Personal Trainers: No more worrying about whether you're doing the right thing. We'll take out the guesswork, teach, support, and guide you through each session.
#6 Down To Earth Instructors: All of our coaches are down to earth, friendly and approachable.
#7 Support Seven Days Per Week: Your PT is on hand seven days per week. And there's never a question too big or small that we won't answer.
#8 Highlight Of Your Week: We want to make your experience special – just like going to your favorite restaurant. Instead of dreading working out, you'll look forward to it.
#9 Personailsed Experience: from your workouts and food programmes…to the music we play… everything's tailored to ensure results and a happy experience. If you like, we can even create you a custom playlist of all your favourite tracks?
#10 Access The Best Equipment: You'll get to use top of the range equipment, and we'll set up everything perfectly for you, from the height of your bike seat to the weights you need. Every detail is thought out to make your experience truly special.
#11 Drinks: Would you like tea or coffee to give you a caffeine boost before your workout? How about a cold bottle of water or some refreshing squash to quench your thirst? It will be our pleasure.
#12 Personal Surprises: You'll also receive a bunch of personal surprises along the way. Last year LEP members received Christmas gifts and Easter eggs… because there's more to life than dieting…
---
A FEW WORDS FROM NICK SCREETON, FOUNDER OF LEP FITNESS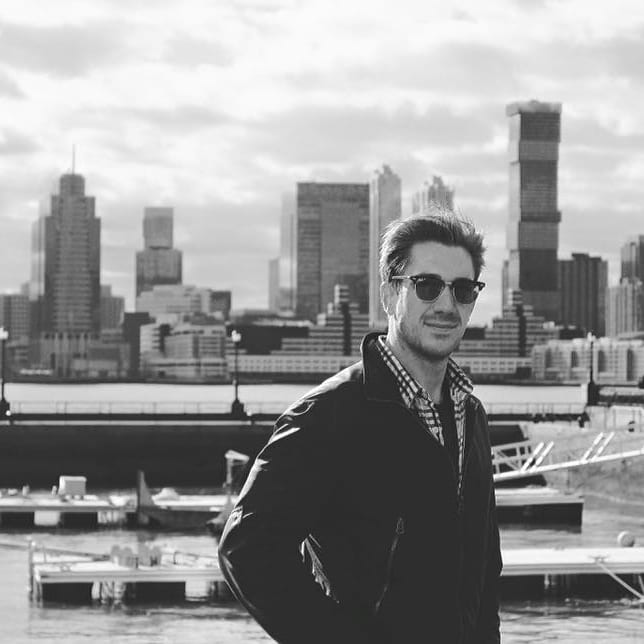 Training with LEP Fitness is much more than getting a six-pack, dropping a dress size, or losing two stone in weight…
It's about empowering you to be the best version of yourself so that you can lead the most exceptional quality of life possible.
LEP stands for 'Life Enrichment Program' and my ambition when creating LEP Fitness was to build people from the inside out – developing your mind, body, and spirit.
The visual results are what most people focus on, but the real transformation starts from within. That's what truly makes a difference to the quality of your life and the results you accomplish.
That's why our training programmes focus so much on developing your MINDSET.
When you get this right, your results will be phenomenal.
You have my word that we will be with your every step of the way, doing all we can to help you achieve your dream result. Satisfaction guaranteed or your money back.
---
MORE THAN A PERSONAL TRAINER…
To my mind, a personal trainer is much more than someone who just gives you a good workout. A 'personal trainer' is a coach, a person who is your friend, and someone who truly cares about you.
When we work together, you're going to undergo a transformation that is guaranteed to enrich your life.
YES, it will be challenging, but challenges are what make you stronger.
This experience will strengthen your character.
You'll develop confidence, resilience, and discipline.
These attributes are essential life skills that are easily transferable to your career, family life, and the areas of life that matter to you the most.
But all seriousness aside…
You'll have fun too. With uplifting music helping you stay motivated and feel-good endorphins surging around your body, you'll feel happy for hours long after your workout finishes.
The mind boost you'll get from training becomes easily addictive. Clients often arrive disliking exercises, BUT by the time they finish…they're hooked and can't live without it.
READY TO START YOUR BODY TRANSFORMATION?
---
CLIENT SUCCESS STORIES…
ELLIOTT – LOSES 23KG AND GETS A SIX-PACK…
"It's the first time I've ever felt confident taking my t-shirt off on the beach."
Elliott came to LEP lacking in confidence and very unhappy with his body shape. He wanted a lean and athletic body but didn't believe it was possible.
We promised to prove him wrong, and guess what? He lost 23kg and got abs.
CAROLINE – LOOKS PICTURE PERFECT ON HER WEDDING DAY…
Caroline dropped three dress sizes for her wedding and lost 29lbs. Here's what she had to say…
"I started out feeling fat, flabby, and completely gasping for breath walking up the many Sheffield hills, but within a few weeks, I noticed a huge difference…
My body has changed shape so much, I am 3 dress sizes down, and even my cellulite is disappearing.
My ultimate achievement came this summer when I wore a sleeveless top out of the house feeling great about my arms… bingo wings are a thing of the past!! I never thought I'd say that!"
JAN – LOSES 5 STONE AND GAINS A CONFIDENCE UPGRADE…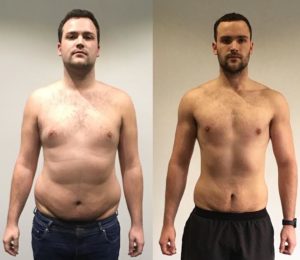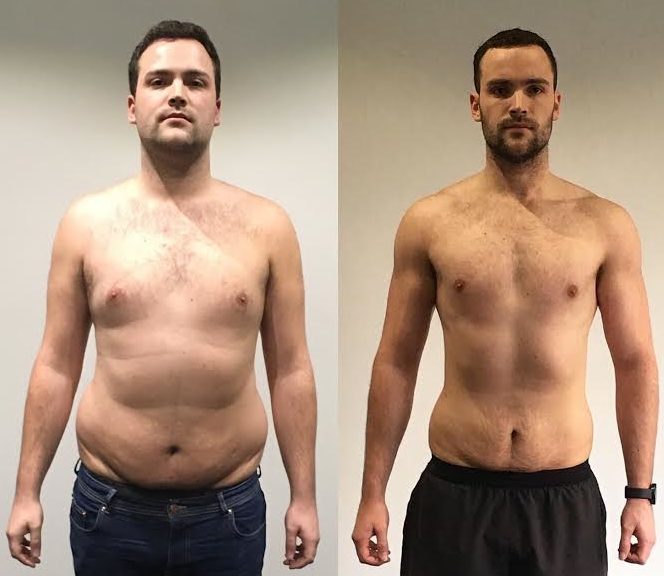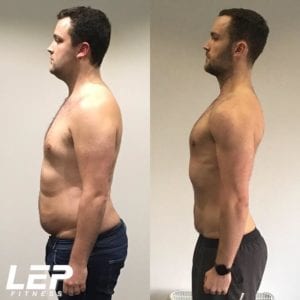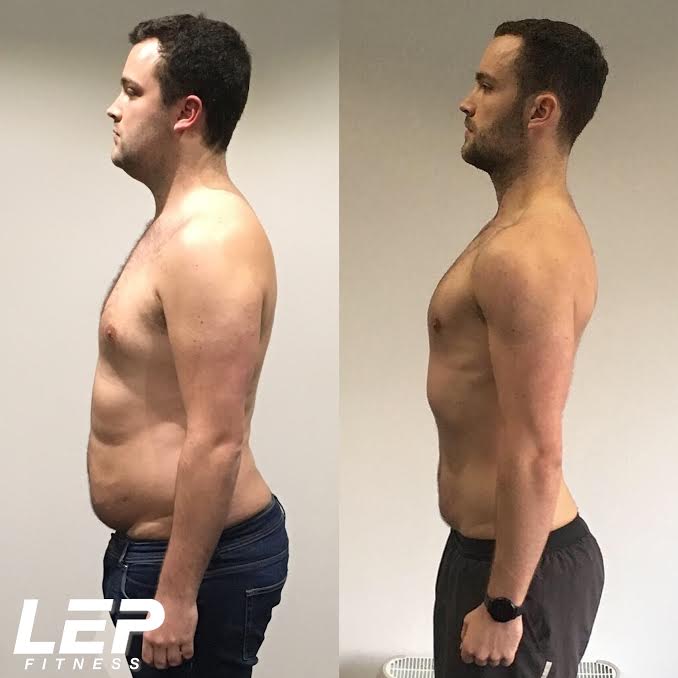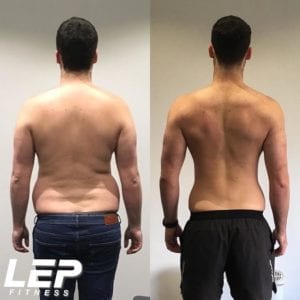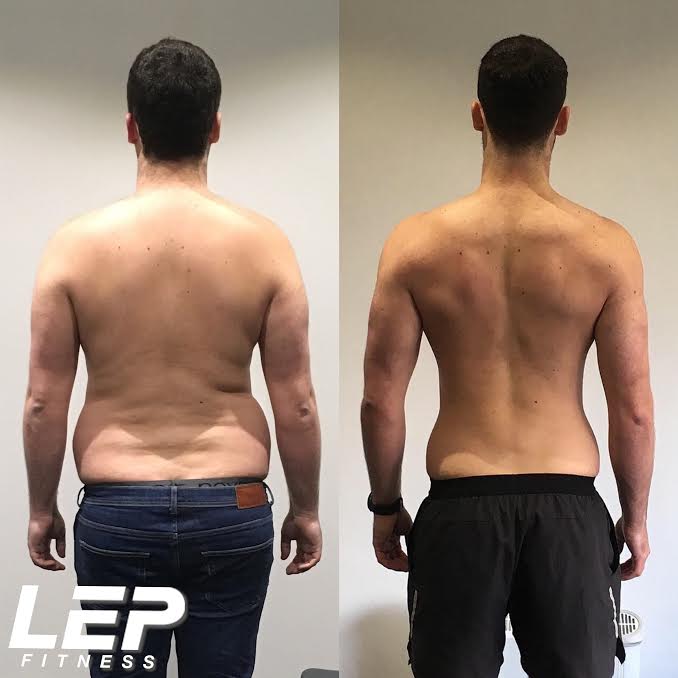 Jan arrived at LEP Fitness, feeling flat and depressed, he was struggling for energy and staying focused at work…
Fast forward 11 months, and Jan has lost 70lbs…
Jan now enjoys working out, has a daily structure. BUT most importantly, he's happy with his body image and a new positive mindset.
FAYE DROPS A JEAN SIZE AND LOSES 12LBS IN 8 WEEKS…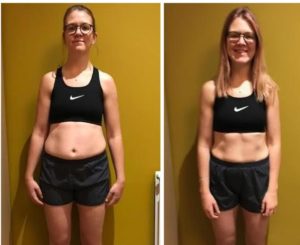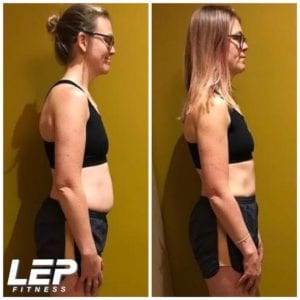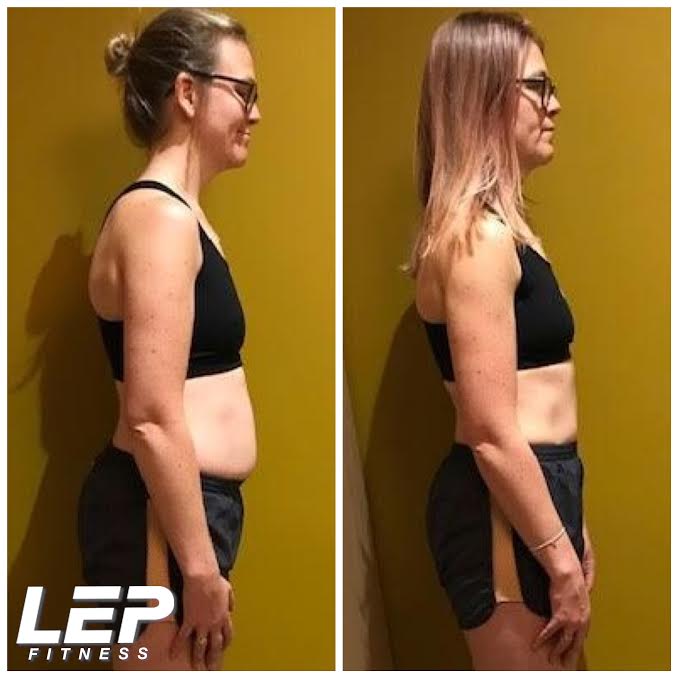 Faye wanted fast results and that's what she achieved, losing inches from her stomach, increasing muscle definition and getting into the best shape of her life.
LIAM GETS LEAN IN 6 WEEKS…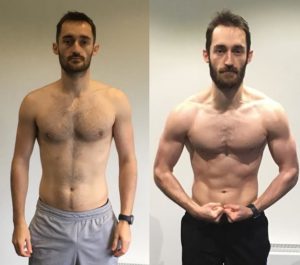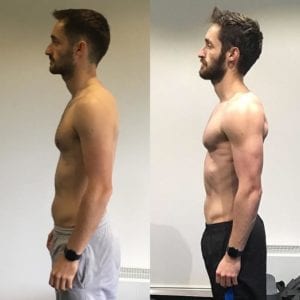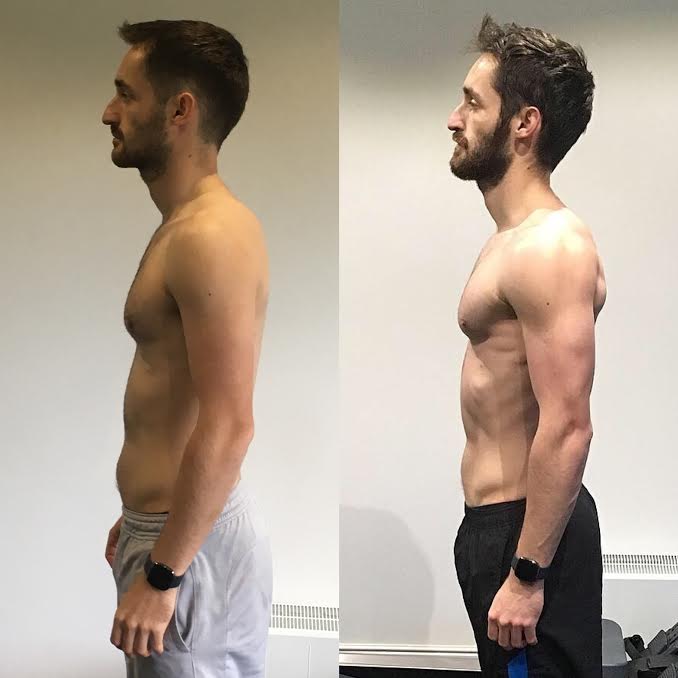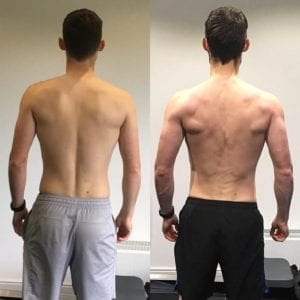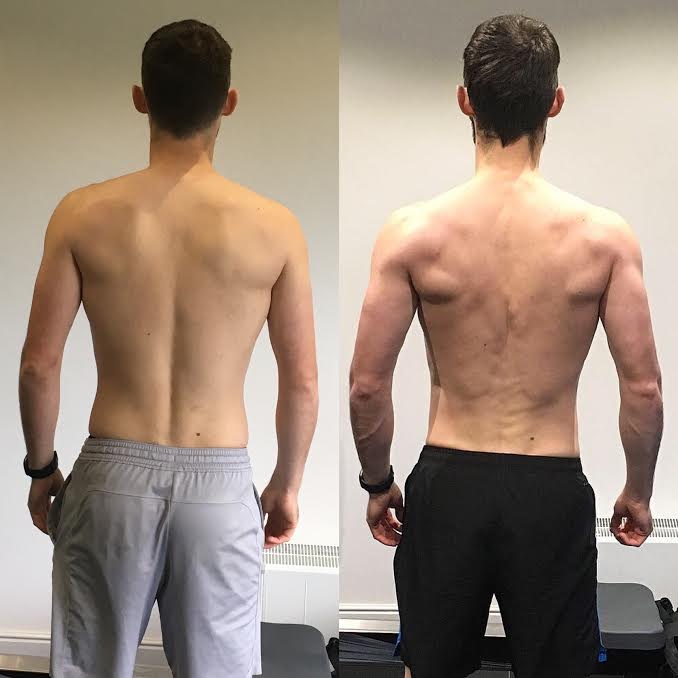 Liam wanted to get lean (but not too lean)… in just 6 weeks he lost lots of body fat, built muscle, and now feels super confident taking his t-shirt off.
AISLING – SWITCHES THE YO-YO DIETS FOR SUSTAINABLE RESULTS…
Aisling attempted lots of diets in the past and succeeded, but always rebounded and piled on more weight. She had also developed unhealthy patterns of eating, such as binging and yo-yo dieting.
Fast forward four months of working with LEP Fitness, and she's lost 43lbs.
By the way… no faddy diets or harsh restrictions with food. Aisling still enjoys treats each week, AND she now has a much healthier relationship with food.
DAVE – LOSES 30LBS IN 60 DAYS…
Dave was always traveling away with work and working in places where there were no gyms, such as oil rigs.
He'd pretty much given up hope but then got in touch…
Despite challenging circumstances, we created a program that he could easily stick to while away with work. We designed a bodyweight workout routine and made his nutrition and exercise routine work for him rather than against him.
EMILY GETS THE BODY SHE'S ALWAYS WANTED…
As well as losing body fat and building a sculpted body…Emily now loves working out, doing 3x runs per week, and lifting weights in her spare time.
"I couldn't do ten press-ups two months ago. I'm now reaching 30, and I can tell I'm going to get even better! It's great to have that inner belief – Nick is so motivating."
GRAHAM – BUSY PROFESSOR ACHIEVES THE BODY OF AN ATHLETE…
Working 70 hours a week, Graham was tired and wanting to regain control of his health and fitness. Since working with us, Graham has built some impressive muscle mass and lost body fat.
LEYNA'S FAITH IN PERSONAL TRAINERS IS RESTORED…
Leyna was skeptical of personal trainers, due to having invested in the past BUT failing to see any results. After her initial consultation, she was convinced that we could help, and she signed up for 48 sessions. Leyna has lost 30lbs since training with LEP.
PAUL DROPS OVER 18kg in 18 WEEKS…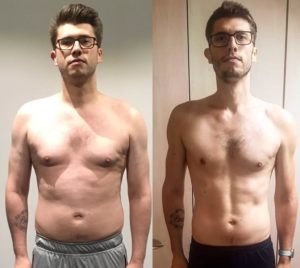 Paul had hired personal trainers in commercial gyms BUT failed to get results.
He's now 40lbs down and is still working with us to get in even better shape for his wedding.
SORABH GETS IN INCREDIBLE SHAPE DESPITE BEING A BUSY PARENT…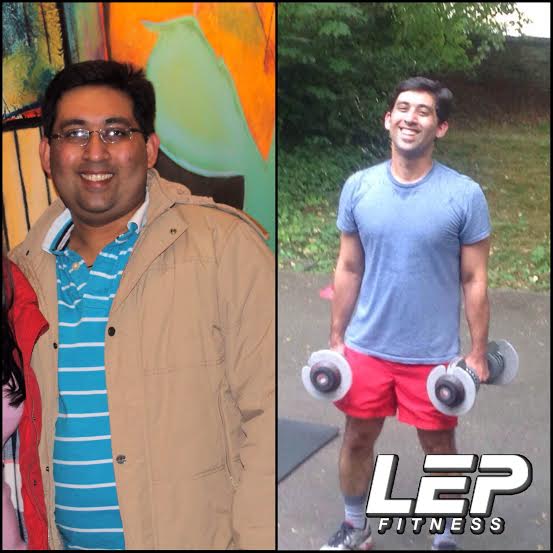 Being a parent, Sorabh couldn't afford to spend hours in the gym and didn't want to either. So instead, we created him short workouts, which he could do without eating into family time…
Sorabh successfully lost over two stone and had to buy a new wardrobe of clothes to fit his new and improved image.
JULIE DITCHES BEING A WORKAHOLIC FOR A 'GYMAHOLIC'…
Julie admittedly was a 'workaholic' spending years in business, BUT neglecting her health. Her stress levels were super high, and weight was pilling on.
Since working with LEP, Julie has found a new hobby… working out. Which she now loves. She exercises 4x per week and has dropped over two stone in weight.
FAHD LOOKS DAPPER IN HIS NEW WEDDING SUIT…
Fahd looks dapper in his suit don't you think?
Fahd is a medic and works long and stressful work shifts. That didn't stop us though, we worked together for two months, and he lost an impressive 32 lbs.
*Read all of the LEP Fitness testimonials here
Want to be the next success story? Please fill out the form below…
---
NO MORE FADDY DIETS…
It's important to state that we don't advocate faddy diets, weight loss pills, or quick fixes.
We know that these don't work. They actually make things worse, causing you to gain even more weight in the long run, and dent your self-esteem.
We make your program work for you, not against you.
Our personal trainers have tons of experience and have the skills, tools, resources, and are 100% committed to helping you. All we ask for in return is your commitment back.
When we work together as a team, anything is possible…
For example, Emily came to LEP Fitness, frustrated at her lack of gym progress. She had also been told that 'women can't do pull-ups!' by her previous trainer and was on the verge of giving up…
Fast forward four months, and Emily is 13lbs lighter and can do 11 full chin-ups…
---
SHEFFIELD'S LEADING PERSONAL TRAINING SERVICE…
I promise that this will be dramatically different from anything else you've done before and may have experienced in gyms, with previous personal trainers, and diet clubs, etc.
You're going to be working with one of the UK's most supportive personal training teams, and be training in our luxurious and private personal training studio, based in Sheffield.
We will go above and beyond to help you achieve the results that matter to you.
We will do all the heavy lifting for you, and create all the programmes, teach you how to execute exercises correctly and make you feel good about your training and progress.
We will also teach you how to keep your results in the longterm and how to continue progressing long after you've finished working with us.
Does this sound good?
Would you like to become our next successful body transformation client?
If this is something that you've always wanted, please get in touch below…
---
THE SKY'S THE LIMIT…
Picture this…
Imagine you could wave a magic wand and instantly get the body you desire…
Can you picture it in your mind?
What would your new body look like to you?
How would you feel in your new body? Would you feel proud and confident?
What type of clothes would you be wearing to show off your new look?
Now, unfortunately, I don't have a magic wand. BUT you already knew that.
BUT, what I can promise is that in less than two weeks, you'll start to experience positive changes.
As each day passes, you'll get stronger, feel fitter, and…
Most importantly, you'll start to believe you can do it, which then creates a chain reaction…
As soon as the penny drops and you believe in yourself, you'll end up reaching your goals. And much faster than you initially thought.
Once the belief is there, you'll be unstoppable.
I've witnessed this with hundreds of people.
You are no different. You can do it too.
Let me show you how…
---
PRIVATE PERSONAL TRAINING GYM IN SHEFFIELD…
Yes, we have top of the range equipment, such as a rowing machine, ski machine, bike, dumbells (which go up to 40kg), barbells, medicine balls, squat rack, pull up bar, battle ropes, TRX… to name but a few…
BUT what makes our studio stand out is the level of attention you receive while in our care.
The LEP studio is a private place to train, where you can just be yourself.
We've been voted the best personal training gym in Sheffield because we get results, have an excellent facility. BUT most importantly we look after you from the moment your journey starts, until the very end.
If you like, we'll even stay in contact with you long after you've finished working with us…
We know we've done our job when clients get back in touch long after working with us to tell us that they've kept their results, and in most cases… they've continued to progress further.
---
CHOOSE FROM THE BEST PERSONAL TRAINERS IN SHEFFIELD…
Alongside head coach Nick Screeton, there's a bunch of personal trainers you can choose from. Each trainer specialises in different areas, from fat loss to muscle growth, to sports specific conditioning.
We also have a strong network of professionals that we refer out to when needed, such as a physio, chiropractor, and sports massage therapist.
We'll advise you on what's best, save you time, and take away all of the unnecessary stress so that you can focus on results and boosting your performance and inner/outer confidence.
---
Dear friend,
I know we haven't met yet, but I know you're going to be a fantastic addition to the LEP community.
I can tell because otherwise, you wouldn't have read this far. You've read over 2,500 words (the equivalent of 5 pages) to get to this point.
I know you're committed to making a positive change. You've got the potential. Now all you need is some support and guidance…
And before you know it, your dream goal will have become a reality.
Look forward to meeting you in person,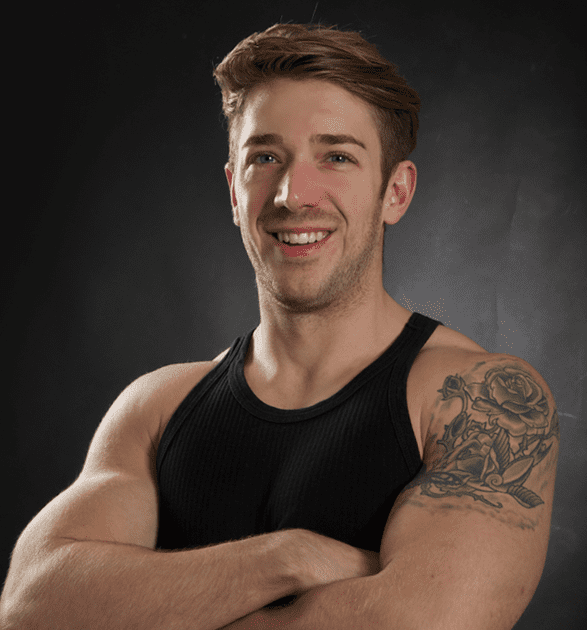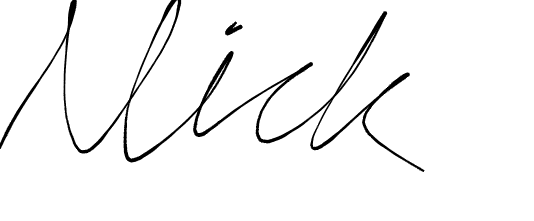 Nick Screeton (founder of LEP Fitness)
---
Start your journey by filling out the form below…
---
Expert personal training in Sheffield, South Yorkshire – Here is where you can find us…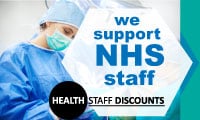 <!- Testimonial, Twitter + Facebook >