4 Ways To Stay Motivated Over The Xmas Period
04/12/2019
Christmas is nearly here, and I don't know about you…BUT I can't wait!?!?
I love Xmas for multiple reasons – spending time with the family and eating copious amounts of naughty food: mince pies, Quality Streets (except the toffee ones that rip your teeth out!), Christmas pudding, stuffing, turkey… to name but a few delicious treats! Yummy!
That said, for me, Xmas is a couple of days (Christmas eve, Xmas day, and finally the grand finale… Boxing Day) – I don't switch off for the whole of December like lots of people! It's just for three days. I'm not bothered about New Year – in fact, I'm often in bed by 10 pm (rock and roll lifestyle or what?!)
December Damage – Weight Gain, Bloating, And Low Energy!
Letting yourself go most of December is what creates a lot of damage, both physically and mentally. For example, lots of people will use the darker, colder nights, and their work Xmas events/social occasions as an excuse to overindulge and binge on rubbish!
Well, if you want to feel tired, sluggish, bloated, have more headaches, develop poor skin complexion, have excruciatingly inflamed joints, and lower self-esteem… piling on the body fat… then make sure to overconsume junk throughout December!
I guarantee that if you do this that you'll feel dreadful come January!
A Debt You Can't Repay…
It's like taking out a HUMONGOUS loan that you know you can't repay, BUT you do it anyway, go and spend all of the money, and then the debt collectors come knocking on your door January 1st, 2020…
And reality hits you in the face with a considerable THUMP.
In January, you end up in a mess, you've gained weight, feel horrendous, and now you feel as though you've got an uphill battle to climb. You're doomed before you've even begun!
Well, it doesn't have to be this way. You can still have a cracking time in December, enjoy all the goodies Xmas has to offer, BUT without destroying your mental and physical health!
I've written this post to help you avoid most of the problems people encounter over the festive period…
4 Ways To Stay Motivated Over The Xmas Period
#1 Set A Goal For The New Year
Have you thought about what you want to achieve in 2020?
Without a goal, you aren't going to stay motivated throughout December. In fact, without any targets, you're likely to derail. If you don't have anything to aim for, there's no incentive to look after your body, and you'll opt for quick fixes, such as sugary food and alcoholic beverages.
There's nothing wrong with having more treats in December BUT start thinking about your health and fitness goals for 2020. Don't wait until January, start to plan and get excited about working towards a goal that's truly meaningful to you.
Whether that's to run the Sheffield 10k or train for a marathon, or whether you want a Men's Health Cover Model Body – in time for summer next year, get excited about what you want, and you'll be more likely to make decisions conducive towards achieving your goals.
#2 Healthier Xmas Food Choices
I'm not going to lie to you for three days over Xmas I'm going to overindulge (hey, I'm just being honest with you!). BUT that said throughout most of December and straight after the three days of Xmas are over… I'll be back to business with my health and fitness regime.
Up until Xmas eve, I'll still be working out 4-6x per week. Yes, I'll be eating more treats in December than usual BUT ones which contain fewer calories, and less wheat, gluten, and dairy – all of which will aggravate your gut and can lead to symptoms such as brain fog, depression, joint aches, mood swings, etc.
LEP Fitness Xmas Recipe Book
Instead of eating junk all of the time, I'll be following my recipes from the brand new LEP Fitness Xmas Recipe Book. In this recipe book, there are plenty of festive recipes that you can follow, such as:
Prosciutto Wrapped Asparagus
Cauliflower Soup
Dolcelatte-stuffed figs
Prawn Cocktail
Pigs in Blankets
Low Fat Gravy
Sage and Onion Stuffing
Beef Tenderloin
Christmas Shortbread Biscuits
Chocolate Truffles
Cranberry-Orange Fruit Bars
Low-Fat Christmas Pudding
Strawberry and Prosecco Jellies
Mulled Wine Poached Pears
And many more festive recipes! In fact, there are 30 recipes for you to choose from!
I want to offer you this book for FREE! Yes, it's a thank you from me to you!
Please email me: nick@lepfitness.co.uk, and I'll send you the LEP Fitness Xmas Recipe Book straight to your inbox!
#3 Start Looking For A Personal Trainer in 2020 
You may decide you want to hire an expert personal trainer in 2020 to help you reach your health and fitness goals as quickly as possible.
It's been said that it takes 10,000 hours to become an expert. Rather than trying to do everything yourself by reading articles online and trusting diet fads (which often fail to help you lose weight…BUT burn a hole in your wallet/purse!), why not save yourself the headache, take out the guesswork, and jump the queue by paying somebody who's already got 10,000 hours worth of experience?
A good personal trainer will get you results twice as fast compared to if you try and do it all alone!
To find a good personal trainer, I'd recommend asking your friends (recommendations are always good to go off). I would also recommend looking online, searching for terms such as 'personal trainer Sheffield.'
Look for online reviews, testimonials, and success stories of the trainers work. Then go and meet your trainer in person and make sure you feel confident in what they have to offer – it's essential to get along with your coach, AND also trust that they can deliver the results you desire. 
#4 Keep Active
Yes, I know… pointing out the obvious! BUT the likelihood is that most of you are going to be consuming way more calories in December compared to other months, so make sure you're burning more calories than other months!
Whether that's going to the gym and doing full-body weights workouts (ideal for burning carbs and fat), or whether that's going and doing a spin class, or playing some sport… it doesn't matter! Just get moving.
Also, don't underestimate the power of walking, walking can burn up to 400 calories per hour and does wonders for both mental and physical well-being. Also, with less sunlight at this time of year, it's essential to try and get some natural light each day, even if for only 15 minutes each day – natural light will boost your mood and help you sleep better. Aim to move outdoors for at least 15 mins each day (the more you can do, the better!).
Good Luck!
Thank you for taking the time to read this article – I hope it's helped you! All I want is for you to have a great month in December, have plenty of fun, and enjoy some treats, BUT in a healthier way – I hope that's come across in this post!
If you have any questions or want any extra help, please don't hesitate to drop me a message: nick@lepfitness.co.uk – it would be an absolute pleasure to be of service! 
Nick Screeton (Founder of LEP Fitness)
2020 Plans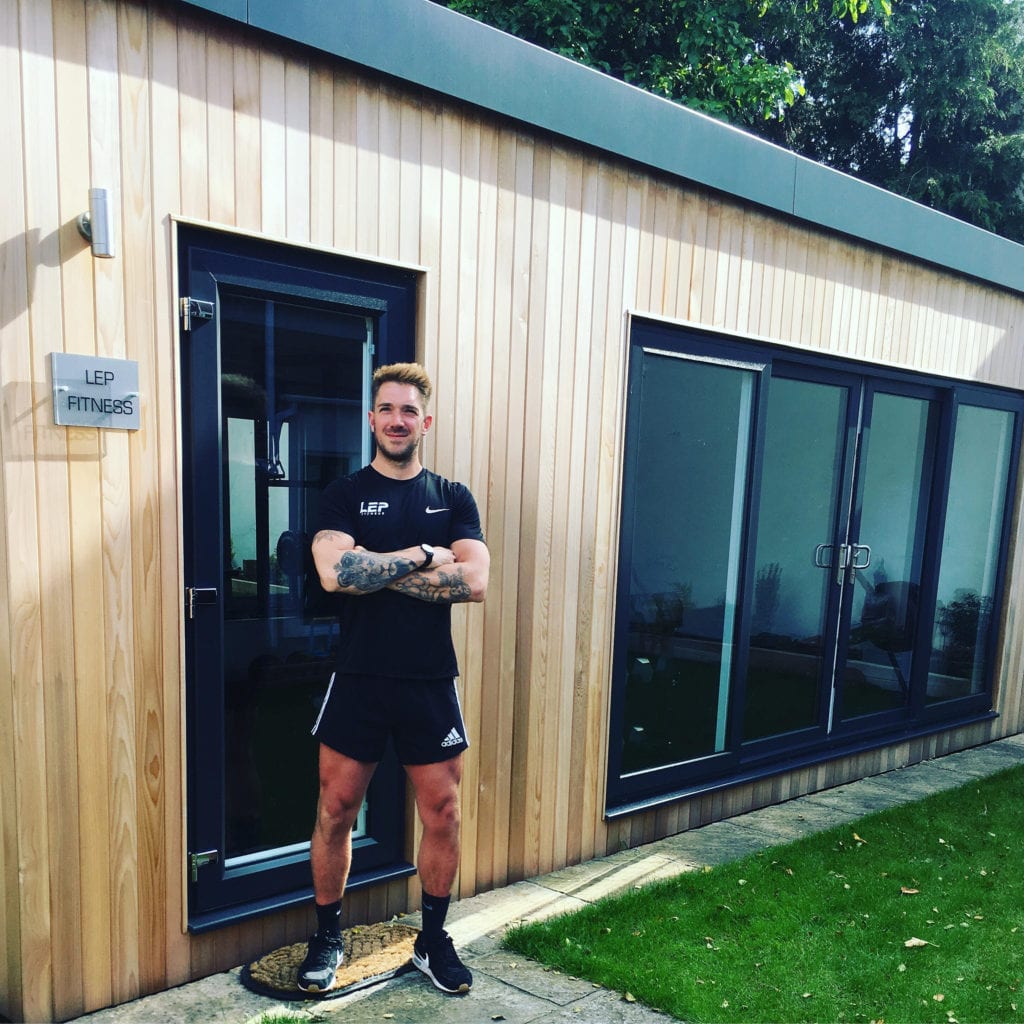 There's lots of exciting stuff in the pipeline for 2020. The main one being that there are now more spaces to help clients! Five months ago saw Ollie King join the LEP Fitness team as a personal trainer. 
Ollie has been a client of mine for the last five years, achieving a fantastic transformation himself (building muscle and losing fat). He is now a fully qualified personal trainer and working for LEP Fitness.
Ollie is a fantastic coach (otherwise, I wouldn't have hired him!) and is now working for LEP Fitness 3 days per week (Tuesday, Thursday & Saturdays).
This means that there's no more waiting list for sessions! And new members can join LEP Fitness (which was an issue last year due to being at maximum capacity).
Thanks to Ollie joining the LEP Fitness team, there's scope for us to do an extra 15-20 sessions per week – meaning we can help more people like you to achieve your health and fitness goals that are meaningful to you. 
Whether you want to lose some head-turning weight or drop a dress size or two – we have the knowledge, experience, and ability to help you.
Alongside weight loss both me and Ollie are highly skilled in helping people to build muscle, we've both been on muscle building journeys and know exactly what's required to build an impressive-looking physique.
We will support you from start to finish and supply you with everything you need to get results:
1-1 Private Coaching
Meal Plan(s)
Extra Workout Programs (to follow at home or in the gym)
Recipe Books (over 180 recipes!) 
Support Outside Of Sessions (via email, text, Whatsapp, whatever your preference!) 
We will do whatever it takes to help you achieve your goals. All we ask for is your full commitment in return.
With our expertise and your hard work, anything is possible!
If you'd like to enquire about personal training, please get in touch today. 
Testimonials:
Max
"The impact training with Ollie has already had on me has exceeded my expectations; my fitness has improved massively, I've started to get into my clothes again, I've rediscovered my love of running outside of our training sessions, my mental well-being is much improved and I'm learning every day about diet and nutrition. I've got so much out of the first 7 weeks of training.
The support and motivation that Ollie (and Nick) give me during and outside the training sessions is also second to none and keeping me honest and determined I'm looking forward to continuing training with LEP fitness as so far it has made a huge difference to my life"
Harry
"I've been trained by Ollie from LEP fitness for the past 8 weeks. The progress in both my physical and mental health is noticeable, and I couldn't have done it without Ollie, or without Nick's fantastic self-help emails and recipe guides. I know that this is only the beginning for me, but I've now built a solid foundation with which to change my mindset and physical appearance long into the future.
I couldn't have done it without either of them. They've both been very motivational and it's been more than a focus on my physical fitness – my mindset is 100% more positive and the focus on improving my life as a whole is why I chose LEP over others in the first place.
If, like me, you were unsure about the benefits of a personal trainer at first, please please do just take the plunge and pay for a block of sessions. It'll be the best thing you ever do"