7 Day Keto Diet Plan For Beginners + Bonus Exercise Tips For Extra Weight Loss…
20/08/2019
You've probably heard of the Keto Diet?
It's a hugely popular diet for people wanting to lose weight, tone up, and improve general health, and well-being. In short, the Keto Diet is a high fat, medium protein, and low carb diet.
The diet is extremely popular, despite American personal trainer 'Jillian Michaels' advising people that they shouldn't follow a Keto Diet. There are lots of people who criticise the Keto diet, but the truth of the matter, is that the Keto Diet…DOES WORK, and it's extremely effective at helping people to lose lots of weight, quickly and effectively.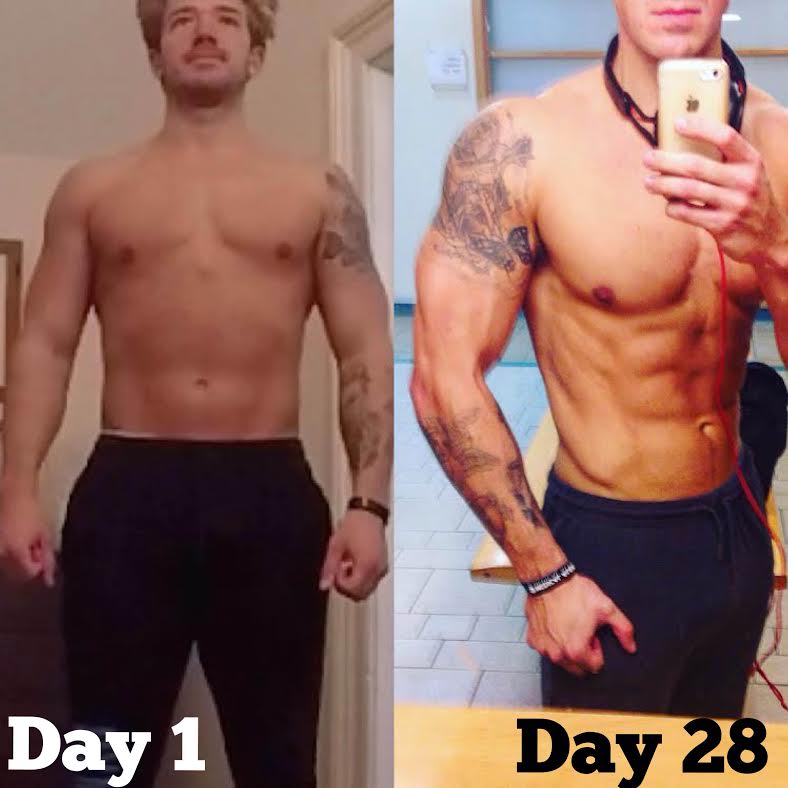 In this post, we'll cover everything you need to know about the Keto Diet, and provide you with a 7 Day Keto Diet Plan For Beginners. As a bonus, we'll also give you some exercise tips, to help accelerate your weight loss.
Let's dive right in…
Keto Diet Basics
The Keto Diet helps people to lose weight because it removes the food group 'carbohydrates'. Carbs are often over consumed, and can lead to weight gain.
If you think of carb rich foods, such as bread, pasta, pizza, chocolate, sweets, etc – they all taste amazing, BUT are often hard to put down… so easy to over consume. This overconsumption leads to weight gain, and potentially a variety of health conditions such as: acne, inflammation, IBS, and in some… cases type 2 diabetes. 
If you remove carbs for a period of time… 1-8 weeks, you can expect to see an improvement to your health, fitness, and body shape. Removing carbs can also reduce the likelihood of health conditions (like the one's we've just mentioned above) from developing – and in many cases, it actually heals them.  
Keto Diet Plan For Beginners
Whether you're new to dieting, or have tried multiple diets – but to no avail… trying a Keto Diet could be well worth your time. It wont take you long to see an improvement, and your health, fitness, and waist line will thank you for it! 
What you need to know before starting a Keto Diet…
One of the challenging aspects for beginners… is knowing where to start, especially if you're new to the whole concept of Keto dieting…
In this next section, we aim to KEEP THINGS VERY SIMPLE for you. We will look at Keto friendly foods/drinks, and also the foods to avoid. Then we'll give you a Free 7 Day Keto Meal Plan, which is ideal for beginners…
Keto Friendly Foods
The good thing about the Keto Diet is that there are lots of foods to choose from, and many of them are healthy, tasty, and packed full of nutrients.
Here's are the best Keto friendly foods…
Meat – chicken, pork, bacon, beef, pheasant, duck, turkey, ham, bison, lamb, sausages, veal, ostrich, steak, mince
Fish – seabass, cod, crab, haddock, hake, halibut, herring, lobster, salmon, prawns, scallop, squid, swordfish, trout, tuna
Vegetables – lettuce, spinach, cabbage, brussel sprouts, broccoli, cucumber, asparagus, celery, green peas, cabbage, cauliflower, kale, onion, pepper
Oils, Spreads & Sauces – olive oil, rapeseed oil, coconut oil, other oil based dressings, butter, peanut butter, almond butter, avocado butter, mustard (dijon, yellow), mayo, hot sauce, pesto, tzatziki, apple cider vinegar
For more low carb spreads check out this post – this resource will give you some awesome recipes/ideas, and help to enhance the flavour of your Keto food.
Keto Friendly Drinks
Water
Sparkling Water
Green tea
Black coffee
Nut milks (almond milk, coconut milk)
Diet drinks (coke, pepsi max, sprite, soda)
Keto friendly smoothies
Alcohol On The Keto Diet
Ditching alcohol is a big thing for lots of people, for example, in the UK, over 29 million people (56.9% of the population) drank alcohol in 2016. Lots of people will drink weekly, and in some cases, daily. Alcohol is often high in carbs, especially drinks such as: cider, and spirit mixers e.g. JD and coke, vodka lemonade, etc. 
Now if we're being totally honest, alcohol is not good for your health, ok…well maybe the occasional glass of red wine (but when we say occasional… we mean one glass per week!).
If you really want to get great results whilst following your Keto meal plan, then you should cut out alcohol. If however, you're not willing to give it up completely, then at least choose Keto friendly alcohol beverages, such as…
Keto Friendly Alcohol Beverages
Light beer (around 3-4g of carbs per bottle)
Red and white wine (4g of carbs per 149ml)
Whiskey (0g carbs)
Run (0g carbs)
Gin (0g carbs)
Vodka (0g carbs)
You can see from the low carb alcohol choices above… that spirits are the best choices, they also contain less calories than other alcohol choices, for example compared to beer, and Guinness. If you don't like drinking neat spirits, then you could choose a diet mixer, such as vodka with diet lemonade, or Jack Daniels with diet coke. 
Foods To Avoid On A Keto Diet
You want to avoid foods which are high in carbs. High carb foods, and ones to avoid whilst following a keto food plan include:
Potatoes
Pasta
Rice
Bread
Beer
Pizza
Chocolate
Ice Cream
Sweets
Desserts
Sugary Drinks
One Carb Exception – the only carb exception is fruit, 60-80g of fruit, 2-3x per week will be fine (it won't ruin your Keto plan!). Fruit is packed with essential micronutrients, and fibre – a must for health and vitality.
7 Day Keto Plan For Beginners
It's entirely up to you how you go about following a Keto Diet. For example, some people like to keep it really simple, just basic, plain food – for example steak and veg, or greek yogurt with almonds. This type of 'simple food plan' is perfect for those of you who can't cook, or don't like cooking, or don't have the time!
In this section we'll give you a simple 7 Day Keto Diet plan for beginners, then in the next section we'll give you some keto recipes, for those of you who prefer slightly fancier, and tastier meals, where more cooking time/skill is required. 
7 Day Keto Meal Plan (Simple Version)
Day 1 & 4
Breakfast – 150g of Greek yoghurt, with 15g almonds, and 5g of honey 
Snacks – 40g whey protein shake, mixed with 250ml almond milk 
Lunch – 2 boiled eggs, with mixed salad, and 1/4 chopped up avocado  
Dinner – 250g sirloin steak, with green veg of your choice 
Day 2 & 5
Breakfast – Blend – 250ml unsweetened almond milk, 40g whey protein, 20g Brazil nuts, small handful of ice cubes
Snacks – 60g of fruit of your choice, with 20g hazelnuts 
Lunch – Chicken (250g), bacon (2 rashers) with salad, and 25g of cheese on top
Dinner – 250g salmon, with green veg of your choice 
Day 3 & 6
Breakfast – 3 eggs (scrambled) cooked in 20g of butter, mix in spinach, and mushrooms
Snacks – 40g whey protein shake, mixed with 250ml almond milk
Lunch – 225g ostrich fillet, served with green veg of your choice
Dinner – 250g cod (fried in 20g of butter), served with 100g of green peas
Day 7
Breakfast – bacon (2 rashers), egg (1 fried), sausages (2), with mushrooms 
Snacks – 60g of fruit of your choice, with 20g Brazil nuts 
Lunch – Prawns (250g) with salad 
Dinner – Fry 250g mince (15% fat) mix in veggies (onion, pepper, spinach, chopped broccoli) 
Keto Recipes
If you prefer slightly fancier/tastier meals, then here are some delicious keto recipes to try out…
Either zoom in to follow the recipe instructions, or just click on the image and save them to your phone/computer hard drive…
How Long Should I Follow A Keto Diet Plan For?
This is a great question, and one that get's asked multiple times per week on the LEP Fitness blog. In short, the keto diet can be followed for anything from 1-8 weeks. Most people will typically be able to do 4 weeks, although some people like to go for 8 weeks, some people even adopt a keto lifestyle forever, although from our experience, the keto diet is a short term solution, most people move to a more balanced diet after completing their keto diet. 
Keto Exercise Tips For Extra Weight Loss…
As well as following the keto diet, if you really want to speed up your weight loss… then do more exercise. There are lots of things that you can do, BUT some of the best forms of exercise are…
Walking
Walking 10,000 steps per day is a great way to burn extra calories. For most people, 10,000 steps per day is around 1 hour of walking. You could either do all of your steps at once, for example by walking for an hour – perfect at the weekend, or after a long days work – when you want to destress and unwind. 
The other option is to increase your walking steps throughout the day, for example, take the stairs (instead of the lift), walk to work (if possible), take a walk on your lunch break, etc. The aim is to be more active throughout the day. I'd recommend picking up a Fitbit to track your steps, alternatively, you could use the predominator on your phone (most smart phones have them already built in).  
Weight Training
If you want a leaner looking body, and to improve the definition in your arms, legs, and stomach… then do some weight training. You could do weight training at the gym, or at home. If you're unsure of how to lift weights properly, then hire a personal trainer in your local area. 
You could also do other forms of resistance training, for example bodyweight exercises, such as: push ups, sit ups, crunches, squats, lunges, burpees, wall squats, etc. The other good option is to do resistance band training, as they only cost £10 for a pair of 3, and you can do them in the comfort of your own home. Check out this free 8 week resistance band training program – to learn how to sculpt your body alongside your keto meal plan. 
Cardio
Cardio could be done at the gym, for example you could use the following machines: rower, ski machine, cross trainer, treadmill, stepper, stair master, bike, etc. You could also attend a fitness class, or if you prefer, go for a run in the park, or a swim, it's up to you! 
There are two main forms of cardio which will help you burn more fat, they are called HIIT and LISS training – read more about what's best here. Cardio will help you improve your fitness, and burn extra calories, so it's worth trying to complete between 2-3 cardio sessions per week, alongside your keto food program. 
Combining The Keto Diet With Exercise
The quickest way to lose weight and see result whilst on the keto diet, is to combine the diet with exercise. For the next 7 days try the keto meal plan in this post, and aim to exercise everyday. If you can, do some form of resistance training 3x per week, and 2 cardio sessions. If you can, also walk 10,000 steps per day too, then you're on to a weight loss winner.  It's not uncommon for people to lose 3-5lbs in their first week on a keto diet. 
28 Day Keto Challenge…
Hopefully this post has provided you with all of the information that you need. You should now feel much more confident about trying out a keto meal plan.
If however, you'd like a structured/strict program to follow, and want to follow a set meal plan, and exercise regime, then please check out The 28 Day Keto Challenge Program – a rapid weight loss system to help you shed some serious weight in less than 4 weeks.
Thanks for reading, and good luck!
Nick 🙂