Luke's 8 Week Lockdown Transformation: 23lbs down!
25/03/2021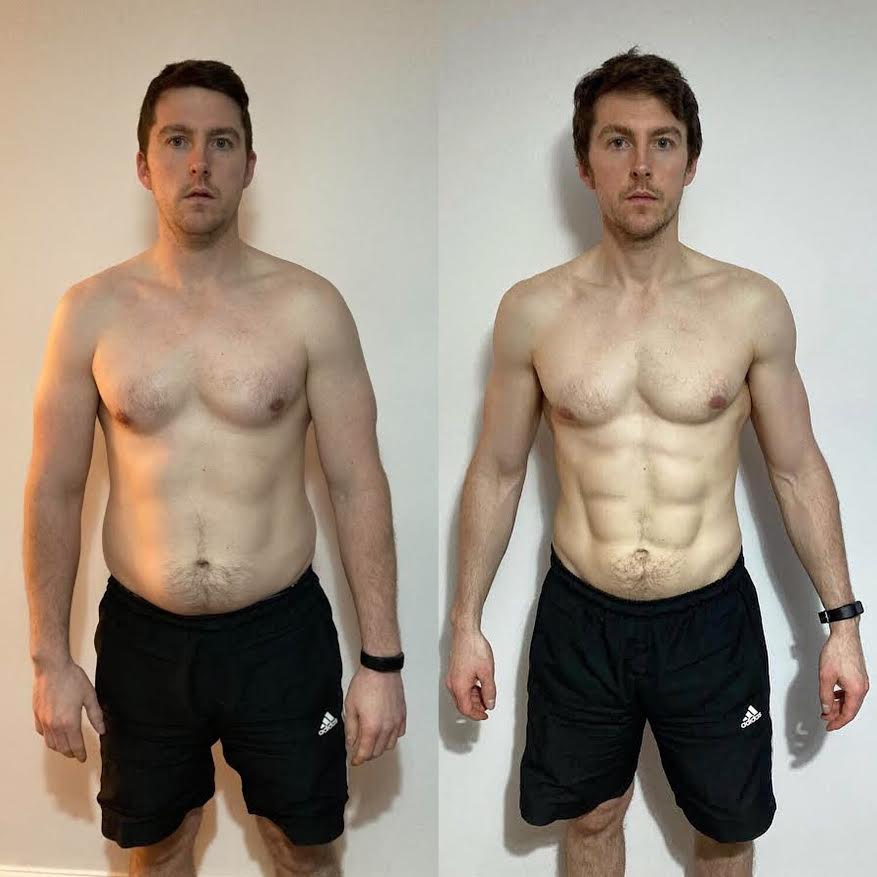 It's amazing what you can achieve in 8 weeks…
Luke has been exceptional to work with, and his results speak volumes..
In 8 weeks, he's managed to successfully lose 23lbs and build a lean, athletic beach body, and guess what?!?…
Without stepping foot in a gym.
Luke started working with me two months ago at the beginning of lockdown three, meaning the gyms had to shut (again!)…
BUT that didn't stop us.
No gym. No problem.
Adapt and Overcome. That's been my mantra all year.
It's incredible what results have been accomplished during arguably the most challenging year of our lives (the year of the Covid pandemic).
Here are some body transformations from my clients…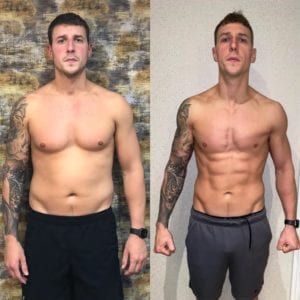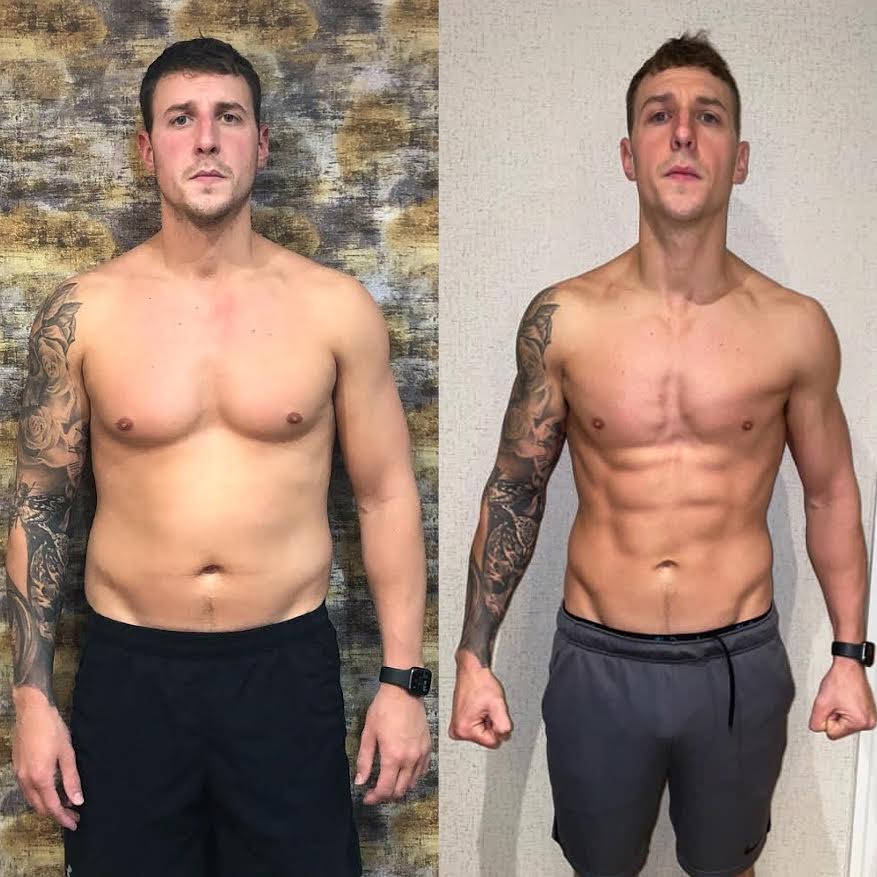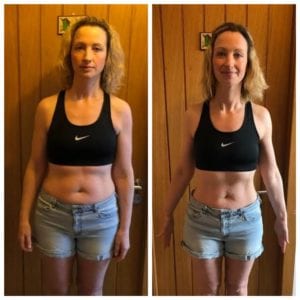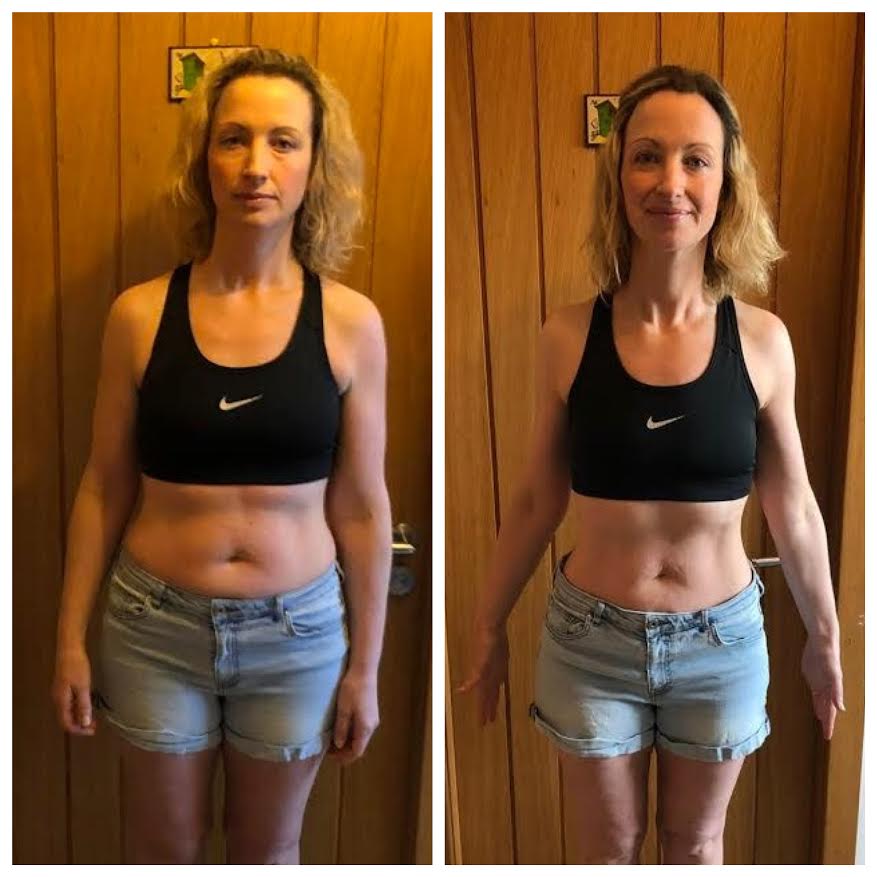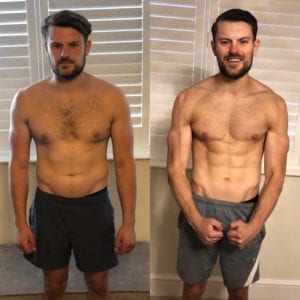 In this article, I wanted to showcase Luke's fantastic results and share some insights into what we've done…
Home Workouts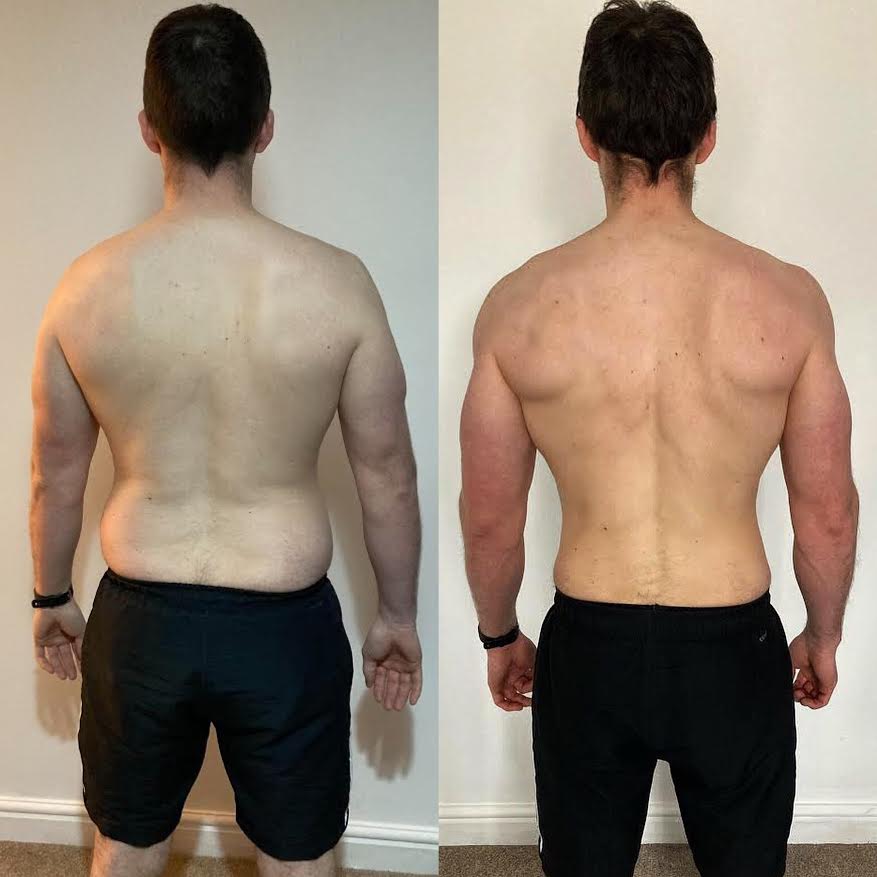 Luke has used very minimal gym equipment to achieve this body transformation – a barbell (that goes up to 40kg), chin-up bar, and a couple of light dumbbells (3 and 4.5kg weights)…
Not ideal…
BUT look at his phenomenal results…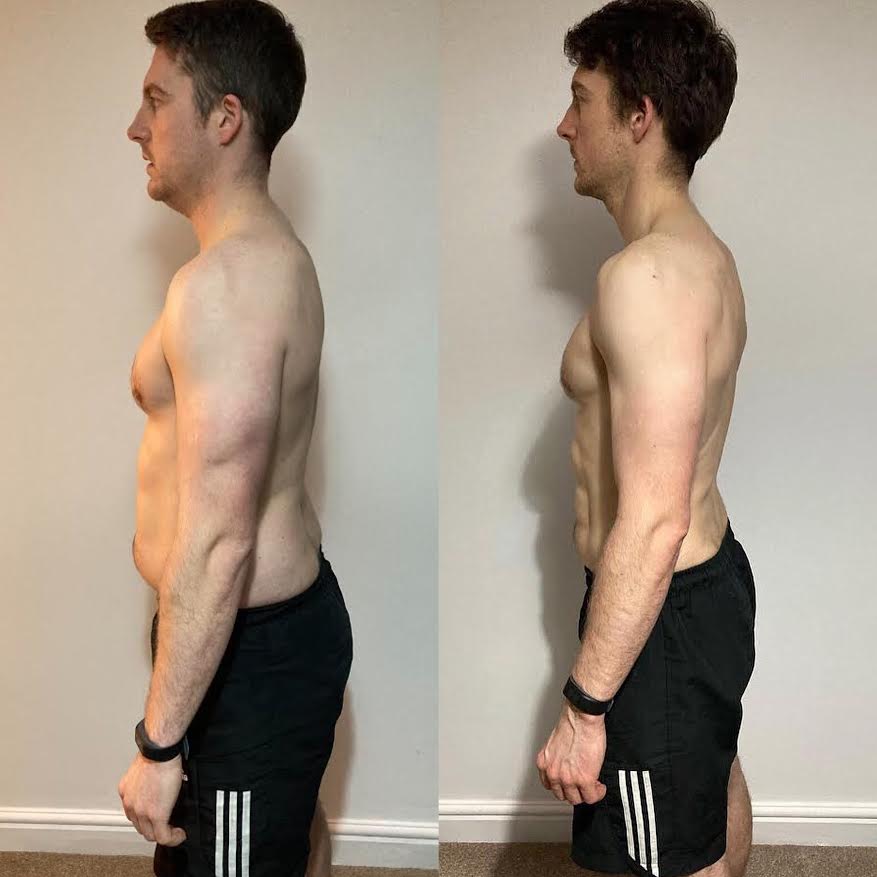 With the correct road map and a committed client…
Anything is possible (regardless of the tough circumstances!)
I created a custom workout plan for Luke, focusing on the exercises that would generate the best results:
Pull-ups (wide)
Chin-ups (narrow)
Bent over rows
Push-ups
Dips
DB curls
Skull crushers
Shoulder presses
Bodyweight core work
Split squats 
Luke lifted weights 4x per week throughout the eight weeks (32 sessions in total) and did cardio workouts on non-weight training days (3 days per week).
Meal Plan
I designed Luke a bespoke meal plan based on all of the foods he likes. I created him a meal plan that would help him:
Lose fat
Increase performance 
Build muscle mass
I included lots of protein-rich foods, such as chicken, mince, whey protein shake, and tuna, alongside complex carbs such as rice, pasta, and tortilla wraps.
Luke's favourite meal was the Nando's chicken tortilla wrap (very tasty!)
Alongside the protein and carbs, Luke consumed healthy, nutritious fats in the form of nuts.
He also had 100g of fruit on weight training days and plenty of veg for two meals each day.
Weekly Check-Ins
As with all of my online clients, each client checks in with me each week with the following info:
pictures (front, back, and side shots)
completed check-in form (with data/feedback)
Based on the results each week, I then make necessary changes to keep clients progressing. This is the beauty of online coaching; you make minor adjustments each week, which means results keep flowing.
I can't stress the importance of having a coach to help guide you through the process. Many people fail on their fitness journey because they don't realise the different phases/stages of a transformation…
And therefore they get STUCK, PLATEAU and…
GIVE UP.
With the right coach, a road map, and 100% commitment from YOU…
Anything is possible.
Would you like head-turning results like Luke?

If you said YES, please head over to my online coaching website, have a look around – check out the incredible results and testimonials of the people I've worked with and…
Get SUPER EXCITED, because in 60-90 days, you too will have achieved life-changing results. 
Thanks for reading, I look forward to helping you on your own journey…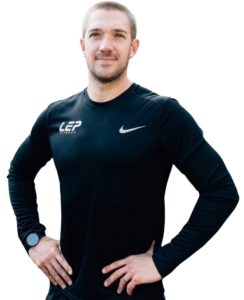 Nick Screeton (Founder of LEP Life & LEP Fitness)