A Day In The Life Of Nick Screeton | Founder of LEP Fitness
05/02/2020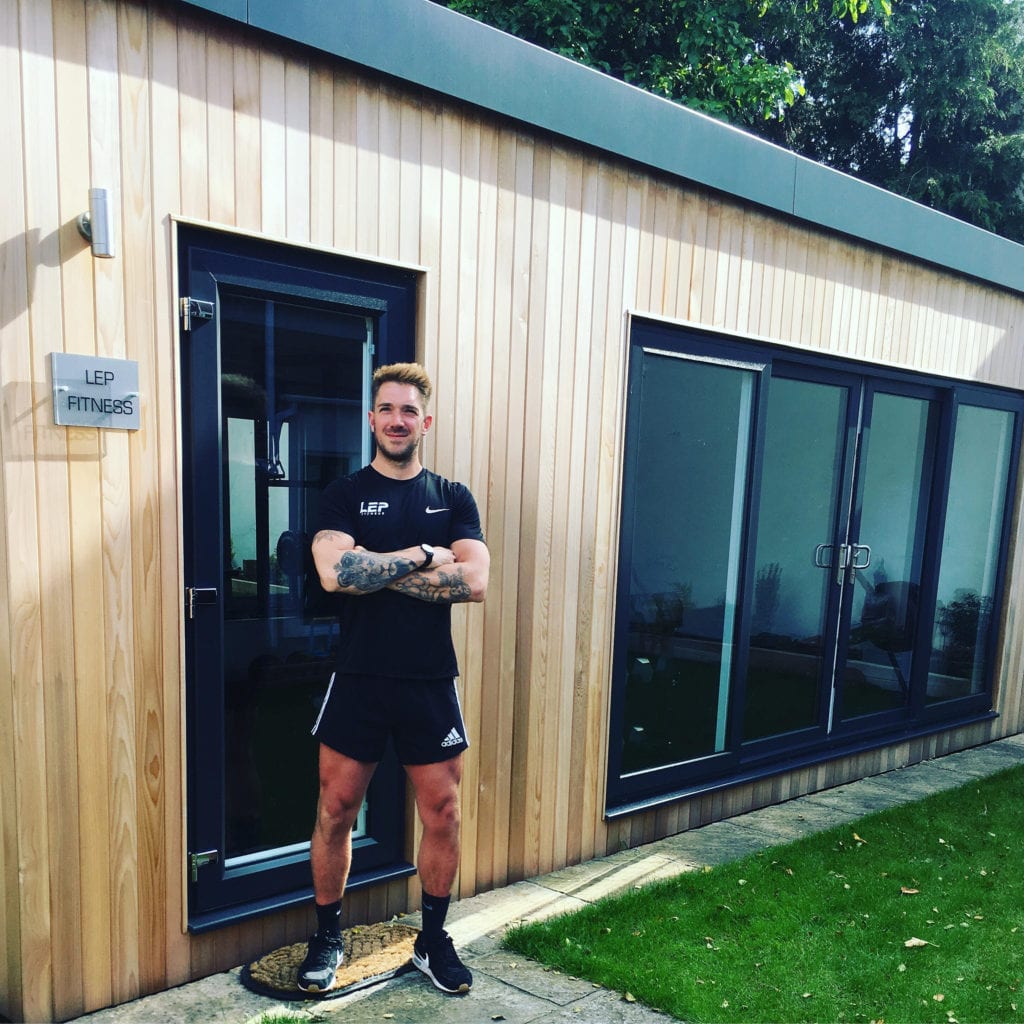 A lot has changed since I did my last 'Day In The Life Video' – 4 years ago (check out the old video here – please excuse the hair! I look like a poor mans Rod Stewart! Lol – What the heck was I thinking?!?!).
The main visible change since 2016, is the new LEP Fitness studio that was built last year (2019). I've loved being in the studio and it's been the best decision I've made since starting LEP Fitness back in 2012!
Outside of the visible changes of LEP Fitness over the last four years, I've also done thousands more 1-1 personal training sessions (I've now completed over 11,000 x 1-1 personal training sessions!) – man I feel like an old man!
I've also learned lots over the last four years, reading over 100 books on personal development, business, marketing, and geeky sports science stuff! I've also listened to 691 podcasts! I'm addicted to learning, and this has helped me to serve more people, and grow my business.
A Day In The Life Of Nick Screeton | Founder of LEP Fitness 
In this blog post, I thought it would be cool to share with you what a typical day looks like for me.  
I'm fortunate to have a privileged life. I attribute this to having a strong team (friends and family), lots of hard work (I've been working my butt off for years!), and the habits and routines that I've built into my life and follow religiously (and have been doing for years!).
I'm still a long way away from where I want to be, BUT I'm well on the way, and I'm much closer than I was four years ago (and especially eight years ago when I started LEP Fitness!).
I hope that you find this post interesting and perhaps get some insights and tips, that if applied, may help you in your own life.
Whatever it is that you want to do in life, you can do it! I know this sounds kind of 'cheesy,' BUT it's true. Back in high school, I was in the bottom set (Set 8!) for all subjects other than P.E. (probably why I became a personal trainer! lol). If back in high school, you'd have told me that I'd be where I am today, I would have laughed!
I've been blessed to find something I'm incredibly passionate about and to lead a life that is truly meaningful to me. I'm on a mission, I have a vision, a purpose, something to wake up for, a family to provide for, and I'm incredibly fortunate to be in this position.
Without further ado, let's dive into my daily routine…
Morning Routine:
I usually wake up at 5.30am, and as soon as I wake, I:
Kiss Sally (Wife), and my two children (Darcey and Noah) 
Drink 500ml of water
Make a coffee (black) 
Take my supplements (zinc, magnesium, turmeric, CoQ10)
Take my medication (inhalers – I'm asthmatic!) 
Then the next thing I do is my personal development routine which consists of:
20 minutes of Reading (at the moment I'm reading How To Have Confidence And Power In Dealing With People – a fab book!) 
10 minutes Meditating – I use the 'Calm' app 
Affirmations – where I read 80 empowering statements and program my subconscious mind
5 minutes Visualisation – where I close my eyes, put on some music and visualise how I want my future to look 
Gratitude & Fantastic Diary – here I write down in my notebook three things that I'm grateful for, and three fantastic things that happen to me the day before. I learned this from Charles Poliquin – a famous strength coach. 
Then I'll have a shower and get ready for my personal training sessions.
Morning Sessions (9.15am – 1.15pm)
Before going into 1-1 personal training sessions, I'll tidy the gym using my fancy portable hoover! Call me Mrs. Doubtfire! LOL. I'll also quickly wipe down machines, spray some air freshener, and get the freshly washed towels all ready for clients to use throughout the day. 
Then I'll get all of my client programs out from my folder and get organised for my morning sessions.
I do personal training sessions four days per week (Mon, Tuesday, Wednesday, Friday), and typically my first block of sessions start at 9.15am and goes on until 1.15pm (4 hours of coaching).
The clients I work with have a variety of goals, although the main one is weight loss (around 70% of clientele), closely followed by fitness and muscle building clients (30%).
Every client has a unique program that's specific to them. I take into consideration the following aspects:
Goals
Lifestyle 
Habits
Behaviors 
Current Level Of Fitness
Posture
Training Experience
Strength
Endurance
Flexibility 
Mobility 
Coordination 
Most of the training I do with clients consists of using free weights and cardio machines. For example, here's a snippet of a recent workout I did with LEP Fitness member Jan – who's lost 14lbs in just four weeks! Well done Jan!
Workout (1.15pm – 2.15pm)
After my morning personal training sessions, I will do my own workout. At the moment I train six days per week and follow this routine:
Monday – Strength Workout (heavy lifting low reps)
Tuesday – Mobility & Movement Work
Wednesday – Legs (bodybuilding style workout)
Thursday – Upper Body (bodybuilding style workout)
Friday – rest day 
Saturday – Cardio Workout (HIIT) 
Sunday – Mobility & Movement Work
I train in my personal training studio because I frickin love it and it has everything I need: Squat rack, bench, dumbells (which go up to 40kg), Olympic Weights (180kg), ski machine, rower, assault bike, medicine balls, TRX, ab wheel, and much more!
Before my training session, I'll typically warm-up for 3 minutes on the assault bike and then do some foam rolling for 5 minutes like the exercises below:
Then I'll do some mobility exercises to warm up my body further and prevent injury:
Then after a proper 10-minute warm-up, I go into my session, which lasts approx 45 minutes. Here's a snippet of last week's bodybuilding leg session:
Lunch (2.15pm – 2.45pm)
After my workout, I will then go and eat lunch. I don't tend to have breakfast. I like to do intermittent fasting because it's healthier for the digestive system, and I don't want to be walking around all day with food digesting in my stomach! It makes me feel tired and sluggish!
For my lunch, I will usually have either:
Eight eggs with two bagels (buff!)
Steak with four fried eggs
Chicken and rice
Tuna and rice
Chicken Salad
Admin Work (2.45pm – 3.15pm)
After lunch, I'll do 20-30 minutes of admin work – clearing out my inbox and responding to clients.
Rest (3.15pm – 5pm) 
In the afternoon I'm usually pretty pooped, so I go upstairs into my bedroom and read for about 20 minutes. Then I'll have a nap for 30 minutes to recharge.
Evening Sessions (5pm – 8pm)
I typically start evening sessions at 5pm and work until 8pm.
Evening Routine (8pm – 10pm) 
Once I've finished my evening personal training sessions, I'm done! No more work!
I put on my blue light blocking glasses – I swear by these for improving your sleep, check out the post I wrote on the benefits of blue light blocking glasses.
I will eat my tea, usually something like salmon pasta, tuna, and jacket potato, or chili con carne!
Then I'll switch my phone off, have a shower and reflect on the day (what's been good? what could have been better? and what do I need to do tomorrow?).
Then I try (although not always successfully! to switch off my brain!) and relax by watching some light-hearted TV – which at the moment is Love Island (don't judge!), haha! I also like programs such as Made In Chelsea, and I'm A Celeb (call me a sado, BUT I don't give a damn! lol!).
Then I'll hop into bed, read my book for 10 minutes and then I'm out for the count! ZZZZZ.
Extra Things I Do Throughout The Week:
Family Time – Thursday afternoons, Saturday afternoons, and the whole of Sundays are spent with my family – no work! 
On Tuesdays, Thursdays, and Fridays, Ollie does personal training sessions in the LEP studio – at the moment, he does 12-15 sessions per week.
Writing – I write a new blog every week for the LEP Fitness website, and I also write for other health and fitness sites. Typically I will write around 10-20 new articles per month for various health, fitness, and supplement companies. Reading and writing are my two favourite hobbies.
Walking – I go on a 30-minute walk most days. This clears my head, helps me to reconnect with nature, and helps me sleep better at night. I highly recommend it, especially if you're stuck indoors all day.