Free 28 Day Keto Challenge | Keto Diet & Exercise Program
03/03/2020
Hi, I'm Nick…
A personal trainer based in Sheffield!
To date, I've completed over 11,000 x one to one personal training sessions…
I've also written over 1,000 articles, and at least 30 articles on the keto diet! The most popular post I've written is How I Lost 16lbs In 28 Days Following The Keto Diet.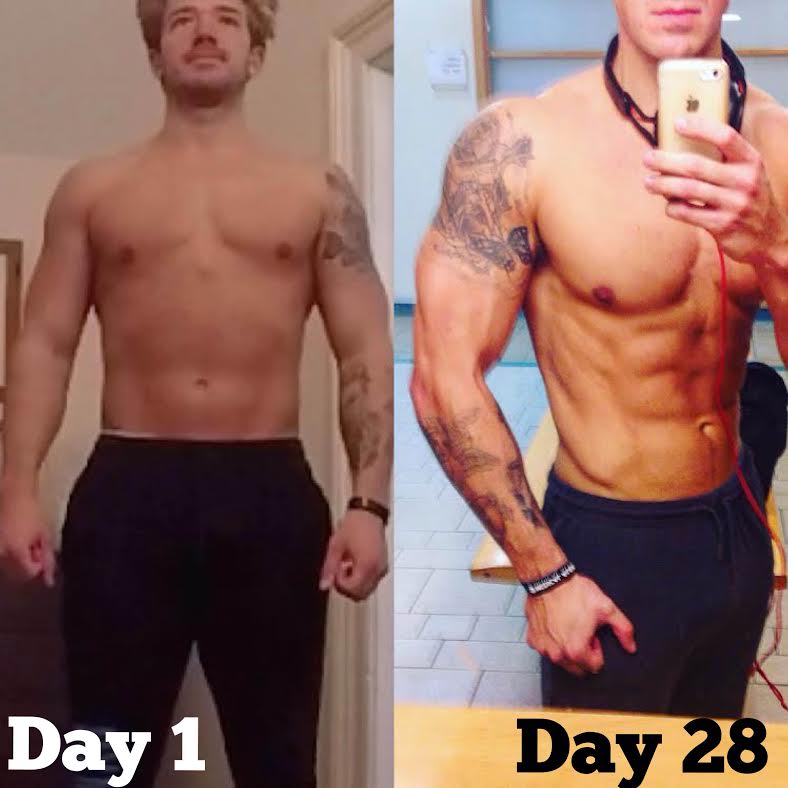 I've written extensively on the keto diet because it gets guaranteed results! It's also a method of dieting I've used on myself plenty of times when I want to get very lean and shed loads of body fat – for example, 4-8 weeks before a beach holiday.
I also design my 1-1 personal training clients custom keto meal plans and encourage them to follow my 28 Day Keto Challenge program – because I know if they follow the plan, they'll get amazing results!
For example:
Ben lost his first 20lbs following a keto diet…
Emily lost 15lbs…
I've also witnessed people lose over 20lbs in less than 28 days following a keto program.
Can you imagine if that happened to you?
Well, it can!
If you would like the same results, then please read on…
Why This Keto Article Over Others?
This article is going to be the most comprehensive keto post I've written to date, and I want it to provide you with tons of FREE value!
I'll be sharing everything you need to know about keto weight loss, and I'll also be giving you a free 7-day keto meal plan, and a 7-day keto exercise program to speed up your results!
My intention is that after reading this article… you'll never have to read another keto diet post again!
I'm going to cover it all in this article – literally everything you need to know to shed some serious pounds, boost your health, and get a confidence upgrade!
I want you to lose at least 10-16lbs over the next month, and I'm on a mission to help you transform your life! This is just the first step!
I know that if you apply what I'm about to share that not only will you lose at least 10lbs over the next 28 days, but you'll also lose more as the months go by!
For example:
Danny lost a whopping 84lbs for his BIG wedding day.
Note: This result was achieved over a 6 month period, following a keto diet and exercise regime (like the one I'm about to share with you shortly)…
In 8-12 weeks, if you stick to your keto diet, you could potentially be 30-40lbs down and looking and feeling like a new person (in a good way!).
How would that make you feel, knowing that:
For Women:
You could drop multiple dress sizes!
Firm up your arms, stomach, and legs – shedding inches from all of the areas you dislike the most. 
To be able to look in the mirror and smile, rather than feeling depressed about your body shape. 
For Men:
You could fit into a designer suit.
Drop multiple jean sizes.
Get a more muscular/leaner physique and turn heads!
Improve your performance at work, in the gym, and in the bedroom!
Elliott lost 23kg in 16 weeks following a keto diet approach.
Isn't this all very exciting?
Sounds Too Good To Be True…What's The Catch?
Now, I'm guessing that this is probably not your first time on a diet?
The first thing I want to mention is that if you've failed at dieting in the past, or piled on the pounds post-diet, it's not your fault!
There's lots of information out there, and it can be confusing! Many times that information overload keeps you from success. It's okay! And you are not alone!
If this has happened to you in the past, and you just can't seem to succeed with losing weight, I want to put those fears to rest. You can do this. You just need the right plan of action, and the right person to explain it to you!
Lots of companies want you to fail. They want to sell you their fancy supplement and are only concerned with making a profit – not your health!
Well, NOT HERE!
The difference with me is that I actually care about your success and truly want to see you succeed with your weight loss endeavour.
So that's what I'm here for, I know you have a dream to lose weight, and I want to show you how to make that happen during this article.
I want to make the biggest impact possible, helping thousands of people just like you to lose weight, and to lead a happier and healthier life! BUT don't just take my word for it…check out the hundreds of testimonials on my site. I'm on a mission to help you succeed!
Who's This Article For?
If you want to lose some serious life-changing weight, lower inflammation (joint aches and pains, headaches, brain fog), and want to drastically improve your health over a short period, then this post is for you.
WARNING: You must be committed, no excuses here! Losing weight on the keto diet isn't going to be easy, and it's not for the faint-hearted. BUT if you fully commit, you are guaranteed (yes guaranteed to lose weight!) and lots of it!
Also, before undertaking a keto diet and exercise plan, please get permission from your doctor. While the keto diet is suitable for the majority of people, it's crucial to speak to your doctor, especially if you are taking any medications and have any underlying health conditions.
What You Get In This Keto Article:
Knowledge – everything you need to know about the ketogenic diet, how it works, and the health benefits.
Free Keto Diet Plan – 28 Day Keto Challenge that you can follow immediately and start getting amazing results.
Free Keto Exercise Plan – 7 days worth of training, with video demonstrations, and workouts all designed to help you burn even more fat! These keto exercises will help you tone your body and make you feel strong and confident.
Before we dive into the juicy bits (28 Day Keto Diet & Exercise Regime), it's essential to cover the basics, so without further ado, lets jump right in…
Keto Diet Explained
To quickly summarise…
The keto diet is a high fat, medium protein, and low carb diet.
The keto diet is extremely popular for people wanting to lose weight because it gets results. In fact, there's no diet out there that's more effective.
I've completed over 11,000 x 1-1 personal training sessions and have worked with hundreds of people, and if somebody asked me…
"Nick, what's the best diet for quick results?"
I would, without a doubt, say the ketogenic diet!
How does the keto diet help you lose weight?
The keto diet works for weight loss because you remove a popular and easily overconsumed food group called carbohydrates.
Carbs are easy to devour!
Think about foods such as pizza, pasta, bread, chocolate, sweets, desserts… they taste great, give you a dopamine high and once you start…you don't want to stop!
BUT, guess what happens… the weight piles on, and the more weight you gain, the easier it is to gain even more weight!
Before you know it you're 20lbs heavier, feel tired and sluggish all of the time, experience painful joint aches and pains, headaches, mood swings and can't stand looking at yourself in the mirror! This is no way to live! And it doesn't have to be this way either!
Why do carbs make you gain weight?
Too many carbs will lead to weight gain; this is due to overconsuming calories. Carbs are tasty, addictive, and easy to overconsume, so cutting them out, while hard to begin with, is one of the best ways to reboot your body and shed those pounds that are making you feel down.
Also, if you are already overweight or obese, then carbs will be more easily be stored as body fat – this is down to what's called insulin resistance – where your body isn't using carbs for energy BUT instead storing the excess carbs as fat.
That's why the bigger you are, the more you would benefit from a low carb diet, such as the keto diet.
By removing carbs, you are likely to create a calorie deficit, which means you are guaranteed to lose weight. When you reintroduce carbs back into your diet at a later date (say 4-8 weeks), your body will be better able to handle them.
In a nutshell…
The leaner you are, the more carbs you can handle. The more overweight you are, the fewer carbs you can handle.
If you are over 15% body fat and want to lose weight and body fat, the best way to do this would be to follow a keto meal plan combined with an exercise regime.
Here's a picture of body fat scale percentages…
Where do you sit on the spectrum? If you are above 15% then you may want to consider a keto weight loss plan to blitz the body fat and boost your confidence?
If It's Good Enough For Kim Kardashian & Lebron James… It's Good Enough For You!
If you still have some doubts about the keto diet, I'd encourage you to look up how many famous celebs have followed a keto meal plan! You'll be surprised at how many A-Listers use it to annihilate body fat!
Famous celebrities from around the world have all done the keto diet, and with great success, keto celebs include:
Women Celeb Keto Dieters:
Kim Kardashian
Gwyneth Paltrow
Adele
Vanessa Hudgens
Holly Willoughby
Jenna Jameson
Halle Berry
Adriana Lima
Men Celeb Keto Dieters:
Jack Osbourne
Alec Baldwin
Sam Smith
Daniel Craig
Jonah Hill
Al Roker
Tim Tebow
Mark Consuelos
Vinny Guadagnino
Keto Diet & Exercise:
For the ultimate weight loss combination, I'd recommend combining a keto diet plan with a keto exercise regime.
The exercise regime is critical and will speed up your results, enhance your body shape, and speed up your metabolism – leading to further weight loss!
That's why I've not only designed a keto meal plan for you, but I have also put together an exercise regime for you with video demonstrations!
I want you to get rapid results! And trust me, you'll get them if you follow my advice in this post. I can 100% guarantee it!
Isn't that cool?
I'll be giving you an exercise program later in the post – so stay tuned…
Benefits Of A Ketogenic Diet:
Weight Loss – I've already mentioned the weight loss benefits. The keto diet is the most effective and quickest way to lose weight.
Lowers Inflammation – Do you ever experience any of the following: regular headaches, joint pain, mood swings, stiffness, tight neck, lower back pain, shoulder pain, migraines, bloating, anxiety, or IBS?
If you said YES, then you are likely suffering from inflammation. Inflammation leads to chronic illness and pain and is often brought on from physical and psychological stress. 
The physical stress is from the foods we consume, i.e., sugary foods lead to inflammation. The emotional stress is brought on through how we deal with life circumstances and our belief systems. Both go hand in hand, so if you are consuming lots of inflammatory foods, you will feel bad mentally. And vice versa…if you suffer from psychological stress, then you are more likely to consume rubbish foods! It's a vicious circle. The keto diet can help you break both.
Lean Muscle Mass – due to the keto diet being high in fat and medium protein, it's an excellent diet for building and preserving muscle tissue. The more muscle you have, the faster your metabolism. Muscle is your friend when it comes to staying lean, strong, and feeling good.
Keto Foods:
There are hundreds of tasty, delicious, fat burning foods to choose from on a keto diet plan:
Keto Meats:
Beef
Duck
Lamb
Venison
Goat
Quail
Hotdogs
Pork
Jerky
Turkey
Sausages
Bacon
Elk
Bison
Chicken
Keto Fish & Seafood:
Herring
Tuna
Mussels
Clams
Octopus
Mackeral
Salmond
Trout
Octopus
Cod
Anchovy
Herring
Oysters
Shrimp
Keto Spreads & Oils:
Peanut butter
Cashew butter
Almond butter
Butter
Garlic butter
Lard
MCT oil
Goose fat
Duck fat
Bacon fat
Olive oil
Rapeseed oil
Coconut oil
Avocado oil
Keto Dairy:
Cheese – all versions
Soft cheese
Greek yogurt
Sour cream
Quark
Vegan Keto:
Whey protein powder (vegetarian version)
Protein bars (vegetarian version)
Keto Condiments:
Low sugar ketchup
Pesto
Mayo
Vinegar
Hot sauce
Mustard
Sesame oil
Worcestershire sauce
Lemon juice
Lime juice
Keto Drinks:
Water
Sparkling water
Low sugar squash
Coffee
Tea
Almond milk
Cashew milk
Diet drinks – diet Coke, Coke zero
Free 28 Day Keto Meal Plan
Below is a 7-day keto meal plan, which is ideal to follow if you want to lose weight and boost your health! Once you've completed your first week, continue for another three more weeks (4 weeks in total – 28 days).
I'd recommend picking up the LEP Keto Recipe Book after reading this section. There are 30 Keto Recipes to follow in the ebook, and I teach you exactly how to make each one!
Monday:
Breakfast – 2 bacon rashers, and 2 eggs cooked in 10g of butter
Snack – a handful of nuts (25g)
Lunch – chicken satay skewers (page 36 of recipe book)
Dinner – salmon (200g), and veg of your choice (60-80g)
Tuesday:
Breakfast – keto breakfast bowl (page 10 of recipe book)
Snack – whey protein (40g) shake with peanut butter (15g) and unsweetened almond milk (300ml)
Lunch – BBQ pulled pork (page 60 of recipe book)
Dinner – Sesame crusted tuna (page 58 of recipe book)
Wednesday:
Breakfast – Low carb pancakes (page 14 of recipe book)
Snack – Granade carb killa protein bar
Lunch – Lemon chicken (page 34 of recipe book)
Dinner – Mushroom risotto (page 62 of recipe book)
Thursday:
Breakfast – 2 bacon rashers, 1 fried egg, 2 sausages
Snack – Dark chocolate shake (page 20 of recipe book)
Lunch – Piemento cheese meatballs (page 40 of recipe book)
Dinner – Stuffed peppers (page 46 of recipe book)
Friday:
Breakfast – Keto breakfast pizza (page 16 of recipe book)
Snack – Stuffed avocados (page 30 of recipe book)
Lunch – Crab cakes (page 44 of recipe book)
Dinner – Beef brisket (page 52 of recipe book)
Saturday:
Breakfast – Quesadilla (page 12 of recipe book)
Snack – Snack bombs (page 22 of recipe book)
Lunch – Caprese chicken (page 56 of recipe book)
Dinner – Coconut shrimp (page 48 of recipe book)
Dessert – Chocolate pudding (page 70 of recipe book)
Sunday:
Breakfast – Keto recipe of your choice
Snack – Keto recipe of your choice
Lunch – Keto recipe of your choice
Dinner – Keto recipe of your choice
P.S. if you don't like a recipe feel free to replace it with a recipe that you do like! There are 30 keto recipes in the book!
Keto Recipe Book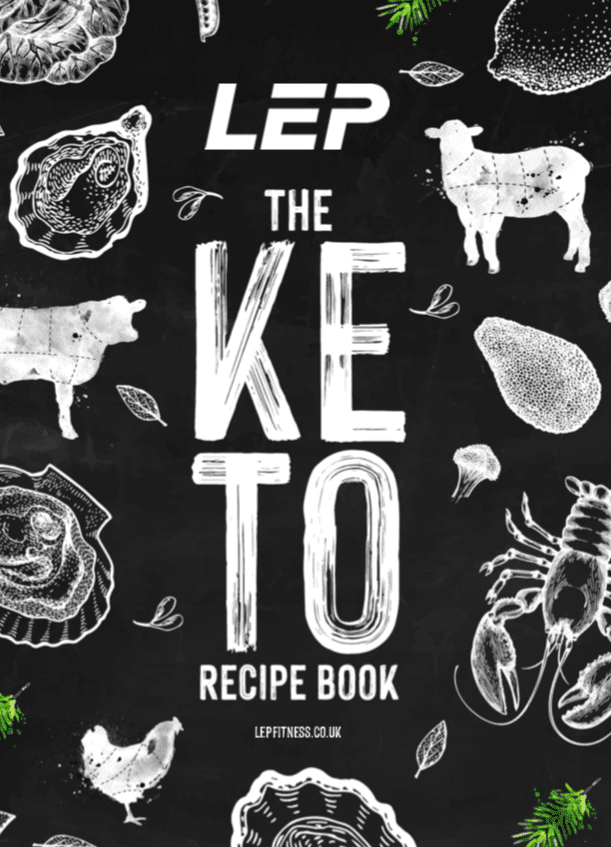 By all means, look online for how to cook the above recipes!
If, however, you want to make life easier for yourself, save hours of time, and have a keto recipe book sent straight to your inbox, then I'd recommend picking up the LEP Fitness keto recipe book!
There are 30 keto recipes in the ebook which include…
KETO BREAKFASTS
Bacon and Eggs
Keto Breakfast Bowl
Breakfast Quesadilla
Low Carb Pancakes
Keto Breakfast pizza
KETO SIDES & SMALL PLATES
Dark Chocolate Shake
Snack Bombs
Bacon Sushi
Courgette Chips
Keto Fries
Stuffed Avocados
KETO MAINS
Lemon Chicken
Chicken Satay Skewers
Stuffed Chicken Breasts
Piemento Cheese Meatballs
Chicken Enchilada Bowl
Crab Cakes
Stuffed Peppers
Coconut Shrimp
Chicken Pesto Cauliflower Casserole
Beef Brisket
Chicken Shawarma
Caprese Chicken
Sesame Crusted Tuna
BBQ Pulled Pork
Mushroom Risotto
KETO DESSERTS
Strawberry Muffins
Frozen Yoghurt
Chocolate Pudding
Butter Pralines
In the keto recipe ebook, I teach you how to make each meal mentioned above. I have also included the calories, protein, carbs, fats, and fibre in each meal.
ADDED BONUS: If you use MyFitnessPal to track all of your food, then you can also scan the barcode for each meal, and it will automatically add it to your food diary – how cool is that?
Typically the LEP Keto Recipe Book is £14.99. However, I'm making it available in the post only for £4.99
That's an offer I'm unlikely to make again! So if you want to start your 28-day keto meal plan, please swipe up your copy below and let me send it straight to your inbox!
A sneak peek inside the book…
Free Keto Exercise Program
In this section of the article, we're going to focus on the exercise part. As I've already mentioned doing exercise on top of your keto diet will guarantee success.
Any type of exercise is great, whether that's walking, running, cycling, swimming, sports such as football, tennis, cricket, squash, badminton, etc, and any form of exercise at the gym: weight training, cardio machines, fitness classes, etc. As long as you are exercising 4x per week, you'll be doing better than most!
Ideally, you want to do some form of exercise every day, even if it's just a 20-30 minute walk. Any activity is going to help you burn calories (which leads to weight loss) and improves your mental well-being.
What's the best type of exercise to do alongside a keto diet?
If your number one goal is to lose weight and enhance your body shape, i.e., get firmer muscles and blitz body fat, then I'd recommend doing resistance training 4x per week.
Resistance training will build lean muscle, speed up your metabolism, and give you a surge of feel-good endorphins and a dopamine high that makes you feel empowered, strong, and ready to kick butt!
If you've never done resistance training before, I'd recommend hiring a personal trainer to teach you the correct exercise execution. If you live in Sheffield or close by, please feel free to get in touch. If, however, you leave further afield, check out this article I wrote on how to choose the best personal trainer for you.
28 Day Keto Challenge Exercise Plan:
So for the next four weeks (28 days) here's the resistance training regime you will be following:
Keto Workout 1 – Barbell Training
Squat x 6-10 reps
Bench press x 6-10 reps
Row x 10-15 reps
Military press x 10-15 reps
Deadlift x 6-10 reps
*3 sets of each exercise & 60s rest in between each exercise
Keto Workout 2 – Bodyweight Training
KB Sumo squat x 20 reps
Push-ups x 20 reps
TRX rows x 20 reps
Sit up x 10-30 reps
Scapula press x 60s
*3 sets of each exercise & 60s rest in between each exercise
Keto Workout 3 – Dumbbell Training
Incline DB press x 8-12 reps
Gorilla Row x 20 reps
Side raise x 15-20 reps
DB curl x 8-12 reps
Kickback x 15-20 reps
*3 sets of each exercise & 60s rest in between each exercise
Keto Workout 4 – Core Training
Plank x 45-60s
Mountain climbers x 45-60s
Plank twist x 45-60s
Deadbugs x 45-60s
Russian twists x 45-60s
*3 sets of each exercise & 60s rest in between each exercise
Keto Workout 5 – Cardio Training
Burpees x 10
High knees x 50
Squat jumps x 10-20
DB punches x 50
*Circuit training – do one exercise after the other = 1 round
*60s rest in between each round
* complete 3 rounds in total
WARNING: don't be surprised if you ache after doing these workouts – this is very normal! I'd recommend checking out my post on how to reduce muscle soreness – there are some KEY tips to help you recover and avoid pain!
Weight Selection – what weight should I lift? That's a great question, and without seeing you in person, I could only guess! That said, here's my advice….
Remember the Goldilocks and the Three Bears story? Well, what you're looking for is weights that are just right, not too heavy, and not too light. Weights that cause a muscle burn – where you struggle to do your last few reps! That's the perfect weight to lift. Over time you will get stronger and be able to lift more.
To begin with, i.e., the first week, don't put too much pressure on yourself. Just go through each round, and if it's too easy, add weight and make it harder. If it's too hard, then take some weight off! It's pretty simple!
As each week goes by, you'll be able to push yourself more and more!
Weekly Training Schedule For The 28 Day Keto Challenge
Ideally, you would do:
Monday – Keto Workout 1 – Barbell Training
Tuesday – Keto Workout 2 – Bodyweight Training
Wednesday – REST DAY
Thursday – Keto Workout 3 – Dumbbell Training
Friday – Keto Workout 4 – Core Training
Saturday – Keto Workout 5 – Cardio Training
Sunday – REST DAY
BUT sometimes, you'll just have to make your routine work for your schedule and work patterns.
I'd recommend planning out the days you do your workouts each week. Make workout appointments with yourself throughout the week and DONT MISS IT! For example:
Monday 6-7pm – Keto Workout 1
Tuesday 6-7pm – Keto Workout 2
ETC
Treat your workouts appointments like importing meeting with your boss! Show up on time and put in the work!
Other Keto Exercise Options:
While the above exercise regime is optimal for improving your body composition, and I'd highly recommend it. If, for whatever reason, you aren't a member of a gym, then you could do resistance band training in the comfort of your home. Resistance bands are super affordable (less than £10) and here's a video I put together of 20 different resistance band exercises:
There are also hundreds of videos on the LEP Fitness Youtube Channel – covering all sorts of workouts: cardio, weights, ab training, foam rolling, lacrosse ball release, stretches, mobility work, HIIT training, you name it!
You could also do other exercises such as walking, sport, gym classes, etc. The aim would be to complete at least 4x 30-45 minute specific exercise sessions each week. The more you can do, the better!
FAQ'S
Are there other diets that work as well as the keto diet?
Yes, there are lots of diets that work. That said if you were to ask me what's the best diet for rapid fat loss? I would say the 'keto diet' – no questions asked.
How long can I stay on the keto diet?
As long as you like! If it works and you are happy, then you can stay on a keto meal plan permanently. That said, most people will use the keto diet for brief periods when they want rapid results i.e., 4-8 weeks before a holiday.
How long does it take to see results on the keto diet?
Typically you will start to notice results within one week of following the program. I've had people lose 4-8lbs in their first week. But then some people it takes them two weeks to get things moving. The people who get the best results do both the meal plan and exercise program. The more you stick to the plan, the better your results!
How often do you do the keto diet, Nick?
I will do the 28-day keto challenge 2-3x per year when I want to look lean and lose body fat, so usually around the beach holiday season. I will also do it at times in the year to boost my health. For example, after Xmas (when I've overeaten!), I will do the 28 Day Keto Challenge throughout January. This year (January 2020), I lost 14lbs in 4 weeks following the recipe book, meal plan, and exercise program that I've given to you in this post – not bad hey?
Is it hard to stick to a keto diet?
Most people find it challenging to begin with, but like anything new, the more you do it, the more you get used to it! Typically it will take people 7-14 days to get into the keto rhythm!