These Healthy Instant Pot Recipes are Great to Try Out
25/07/2020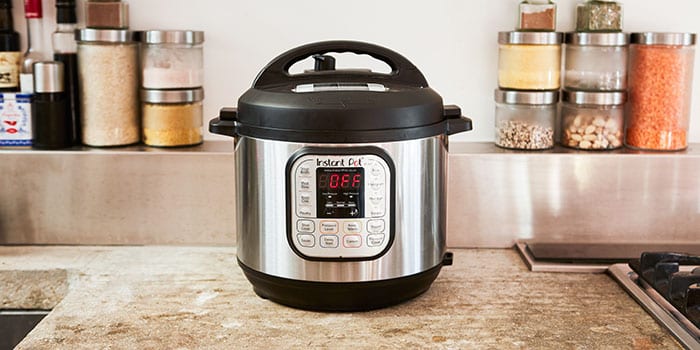 Cooking is something that we all love and enjoy, though there are many times during the week where we simply do not have enough time to spend hours in the kitchen preparing and cooking our meals.
We want something fast, but we also don't want to be microwaving our meals every night…
This is where an Instant Pot is the ideal solution. It is a multi-cooker that can cook all different types of food. It is also a great piece of kitchen equipment in that you won't need separate cookers for different types of food such as rich or vegetables.
This can do everything, and will save you time, as well as space in the kitchen, as you won't need to use any other cooking pots.
Your instant pot combines a traditional pressure cooker, slow cooker and even a crock-pot into one practical and easy to use cooker.
It is a hands-off cooker, so you don't need to keep popping back into the kitchen to check on it. Just enter the settings and you're good to go. 
One of the other great things about Instant Pots is that you can really cook up some delicious and very healthy meals with it.
You can find a load of great recipes online that are very easy to follow, such as those on corrie cooks website, which is jam-packed with delicious ideas and tasty recipes.
Below we take a look at some of the healthy and extremely tasty recipes that you can create in your own kitchen.
Spaghetti
This is one of the easiest and most popular family meals and with your Instant Pot, you can have everything ready in next to no time.
If you have friends around, or simply a weekend dinner with the family, this is a great choice, and one that is as delicious as it is easy to prepare.
With the Instant Pot, you put everything inside the same pot. You won't need one pot to cook the sauce and another to boil the water for the spaghetti. Everything is prepared in the same pot, which means at the end of the meal, there will be a lot less washing up to do. 
You can use different meats for your sauce, with either beef or turkey being very popular. You can also try different types of spaghetti –white or wholemeal spaghetti both taste great.
Soup
There's nothing quite like a homemade soup to warm you up during the cold winter months.
You may have a variety of soup recipes that have been passed down through the generations, and you may even have a couple of your own variations where you've added some additional ingredients during the preparation.
There are lots of different soups that you can prepare with your Instant Pot. Whether you are looking for something simply and very easy to create such as a tomato and basil soup, or are looking to make a minestrone soup filled with delicious fresh vegetables, the Instant Pot is the quickest and easiest way to prepare it.
The Instant Pot will allow all the natural flavors to come out in your soups, without the need of having to slow cook them for hours and leave them simmering in the pot.
The great thing about soups is that you can make them with whatever ingredients you have available. You don't have to follow recipes to the letter, and can add your own ingredients if you prefer.
Chili
Chili is a dish that is a firm favourite with people all over the world. There are lots of different ways you can cook and prepare your chili, and you can use a wide range of different ingredients.
You can use a range of meat such as chicken, turkey or beef, or even go for the vegetarian option. There are so many varieties that you could cook a different type of chili each week.
Many people will slow cook their chili and let it simmer for a few hours. However, not everyone will have the luxury of being able to prepare a meal over a few hours, so a quicker option will be needed. This is where the Instant Pot is such a valuable option, and can allow you to prepare a delicious chili dish in half the time.
Chili is another great option for something warm and healthy to eat during those cold winter days, though depending on where you live in the world, you might also have cold and wet days during the summer months as well.
Rice
Rice is a food that is enjoyed the world over. For some people, it is part of their daily diet. For others, it is something that they might indulge in a few times a month.
Rice is a wonderful food and can be combined with so many different types of food. You can have rice with a range of meat such as fish, chicken, pork or beef, as well as enjoy it with a selection of fresh vegetables. 
There are also many different varieties of rice, so you can mix and match your meals throughout the week, always bringing something new and tasty to the dinner table. From tangy Chinese sweet and sour, to barbeques ribs, rice is the perfect complement for all types of food.
Rice is also one of the healthiest options when it comes to food, and it is also very cheap and easy to prepare. Even more so when you are using an Instant Pot to cook it.
Meat
Your Instant Pot is a great way to cook different meats if they are what you enjoy.
You can use them to prepare a whole chicken or various cuts of meat such as pork or beef. The versatility with an Instant Pot makes it so handy, and you can cook meat in no time without having to grill, bake or fry it. 
The Instant Pot really is one of the most remarkable pieces of kitchen equipment, and one that opens many new doors in terms of the types of food and meals you are going to be able to prepare. And for people who work long hours, it is a great way to eat healthy, even though the time you may have to prepare your meals is very limited.
If you haven't yet tried cooking with an Instant Pot, you are missing out on a whole lot of fun, flavours and enjoyment.