How To Get A Six Pack By Following A Keto Diet…
31/07/2019
In this post I'm going to teach you How To Get A Six Pack By Following A Keto Diet…
Why go keto?
The Keto diet is amazing for those people who are trying to lose weight and lower body fat. I've used this method to get lean on many occasions. In as little as 4 weeks you can see a big difference – not only with the amount of weight lost, but also improved muscle definition too…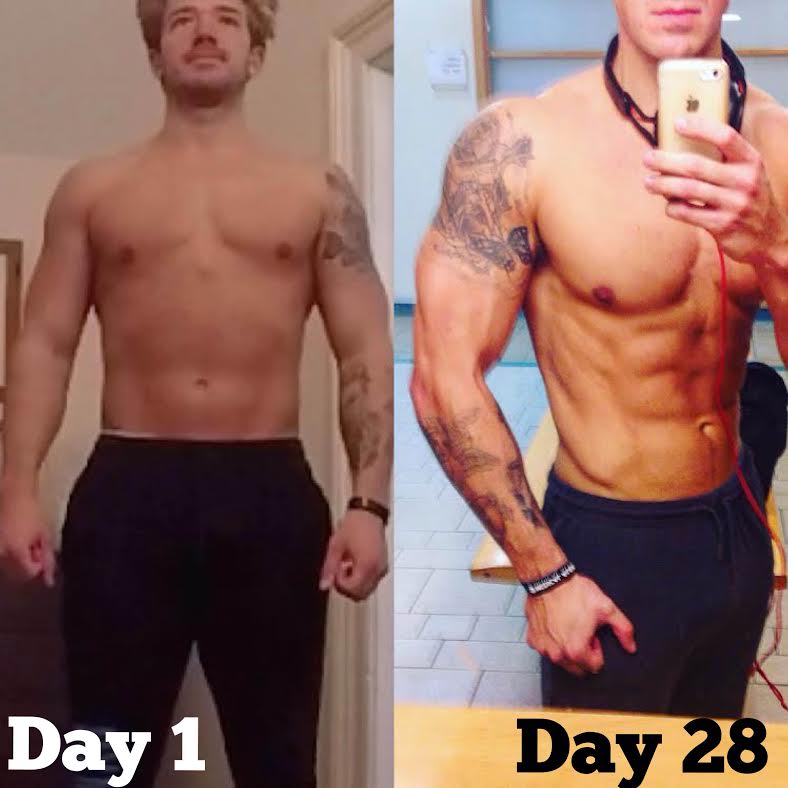 Whenever I'm going away on a summer holiday, or a beach trip, when I want to take my top off and feel confident…I will always follow a keto meal plan, for anything from 2-6 weeks before going away.
The amount of time I stay on a Keto meal plan, will depend on how lean I want to get. If I want a really defined six pack, then I will do 6 weeks, if however I just want to trim up a little, and look more toned, then I'll follow a Keto food plan for 2-4 weeks.
Varying Results
The results will differ on a Keto diet depending on your starting point, and how strict you are at following the plan. If you are already fit, and strong, and have a decent amount of muscle, then you will look significantly leaner after 4 weeks.
If however you are obese, or overweight, then you will still see a huge weight drop, if anything you'll lose more weight than the average person, however you won't look as lean as somebody who's got more muscle mass.
Basically… the leaner your starting point, the better you'll look at the end of a Keto plan.
How the Keto Diet Works…
The Keto diet is a high protein/fat diet, with very few carbohydrates. By cutting out processed carbs, such as: bread, pasta, pizza, chocolate, cake, crisps, etc – it's reduces the amount of calories you consume each day, and the less calories you eat…the quicker you lose weight.
Whilst following a Keto meal plan is great for weight loss, you also lose lots of water weight, and reduce inflammation within the body (which is good). Reducing inflammation can ease joint pain, and can even help to clear up certain skin conditions, such as acne – due to the low glycemic index of the foods you consume.
Keto Diet…
There are lots of amazing keto recipes to choose from, and a wide variety of foods which you can select whilst following a keto lifestyle. For example keto foods include…
Meat/Poultry – steak, mince, lamb, sausages, bacon, eggs, chicken, turkey
Fish – cod, haddock, hake, salmon, mackerel
Vegetables – broccoli, peas, sprouts, lettuce, cabbage, mushrooms, peppers, onions
Oils and Spreads – butter, olive oil, rapeseed oil, coconut oil, peanut butter, almond butter
Alongside the above foods, you could also have a small portion of carbs 1-2x per week, for example 50-60g of rice, or 150g of potatoes. It's also recommend to have 80g of fruit every other day. Whilst rice, potatoes and fruit are carb foods, the amount you eat is very small, so it wont negatively effect your keto diet.
Keto Meal Plan…
You can be as basic, or fancy as you like. For example you could spend hours cooking, marinating and prepping your food, or if you're like me… just keep it simple e.g. just meat/fish and veg for most meals. I like the simplistic approach, because I'm not a good cook (haha!).
Here are a couple of examples of a weight loss keto meal plan…
Day 1:
Breakfast – 3 scrambled eggs, cooked in 10g of butter (add spinach and mushrooms)
Snack – 50g whey protein shake + 20g almond nuts
Lunch – chicken salad (250g grilled chicken), with 15g pine nuts
Dinner – 250g sirloin steak (cooked in 10g olive oil) served with green veg
Day 2:
Breakfast – 100g greek yoghurt with 5g honey and 20g of hazelnuts
Snack – 50g whey protein shake + 20g Brazil nuts
Lunch – 200g cod (cooked in 10g butter) served with 50g rice, and green veg
Dinner – 200g mince (cook mince in onions, peppers, tomatoes, spinach, and as much veg as you like)
In The 28 Day Keto Challenge, I give people 100 different keto foods to choose from, and provide a meal template that gives you flexibility so that you can choose the foods you like within the frame work I provide. It's great because people love the variety, and it's more sustainable in the long run.
Keto Recipe Book: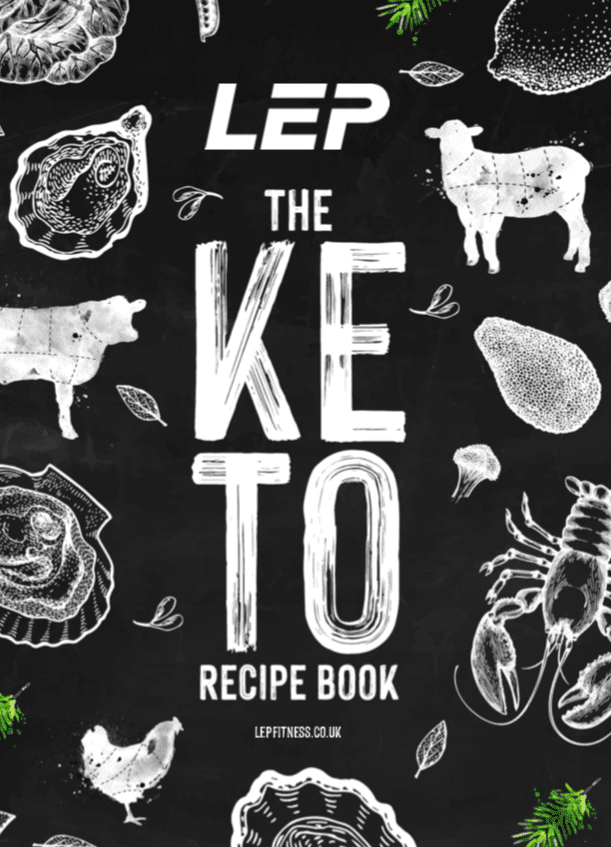 You can also pick up the LEP Keto Recipe Book. In the ebook there are 30 delicious keto recipes (breakfasts, lunches, snacks, and desserts). You can buy the keto recipe book below for just £2.99
How To Get A Six Pack By Following A Keto Diet | Ab Routine
If you want to get a six pack then you have to get down to below 12% body fat. For lots of people it could take them longer than 4 weeks to see their six pack. Like I said earlier, the more body fat you have to begin with, the longer it's going to take…
That said, in time… you could have a six pack! Everybody has ab muscles, even if they can't see them, or don't believe they have them! We all have abs, it's just the amount of body fat covering them which makes them invisible!
Alongside following a keto diet, if you want impressive ab muscles, you need to train your core. Here's a workout I do to bring out my abs…
Weight training on the keto diet…
Another way to get great results and improve definition whilst on a keto diet is to lift weights. Aim for 3 resistance training sessions per week.
Here's the routine I'm following at the moment whilst on the 28 Day Keto Challenge (i'm currently on a lean down phase for my friends stag do in September! I've already lost 2kg after just one week!)
Keto weight training program…
Workout 1
Deadlift – 4 sets x 6-10 reps
Squat – 4 sets x 8-12 reps
Bench press – 4 sets x 12-15 reps
Workout 2
Bulgarian Squat – 4 sets x 10-15 reps (each leg)
Incline DB press – 4 sets x 10-15 reps
Incline DB row – 4 sets x 10-15 reps
Workout 3
DB curl squat press – 4 sets x 10-15 reps
Push up – 4 sets x AMRAP (As Many Reps As Possible)
DB lunges – 4 sets x 20-30 reps
I'd recommend doing the following workout routine…
Monday – weights workout 1
Tuesday – ab workout
Wednesday – weights workout 2
Thursday – ab workout
Friday – weights workout 3
Saturday – 30 mins cardio (running, bike, rowing machine)
Sunday – rest day
If you don't like going to the gym, then you can do workouts at home, for example using your bodyweight, exercises like: squats, push ups, sit ups, crunches, lunges, burpees, planks, etc.
Or you could use Resistance Bands – check out this free 8 week workout program – I get lots of my one to one personal training clients using resistance bands, as they are great to use for toning the body and burning calories.
28 Day Keto Challenge…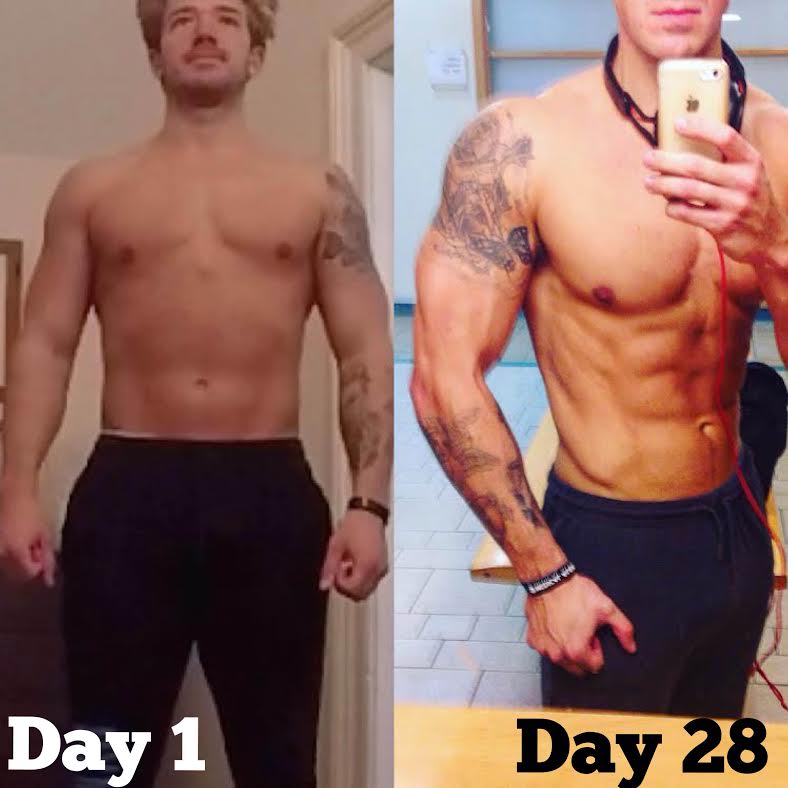 If you're 100% serious about losing weight and want a precise plan of action, then I'd recommend picking up the 28 Day Keto Challenge.
In the ebook, I share lots of workout routines (which can be done at the gym or in the comfort of your home – it's your choice!)
I also give you 100 different foods to choose from, and a meal plan which gives you structure, BUT also plenty of variety (very important).
The foods in the 28 Day Keto Challenge are super healthy, full of protein (essential for healthy muscles, nails, hair and skin), and other nutritious foods such as vegetables and fruits (which are packed full of essential vitamins to support digestion, gut health, improve mood, and provide energy).
Basically everything is laid out to you on a plate, and if you follow the plan for 28 days you can expect to see some great weight loss results!
If you stick to the plan 100%, you will lose weight, improve health, and transform your body shape!
Swipe up a copy of the 28 Day Keto Challenge for just £11.99
£9.97
Thanks, for reading,
Nick 🙂