How To Lose Weight On A Tight Budget…
06/06/2019
Losing weight can potentially be very expensive, you've got a gym membership, gym gear, and healthy food (we all know how expensive healthy food can be!). It can be really demotivating, especially if you don't have lots (or any) cash to spare!
The truth is that you can still lose weight on a tight budget, in fact i've helped lots of people do it!
In this post i'm going to give you some really helpful tips for those of you out there wanting to lose weight and improve fitness, BUT without you needing to spend a fortune!  
How To Lose Weight On A Tight Budget…
#1 Exercise
We all know exercise is key, however a gym membership could cost you £50 a month (£600 per year!) Not all gyms cost this much, in fact you could join a budget gym like Pure Gym or Xercise4less which typically cost between £10-£15 per month. This could be a great option if you can afford it. 
Failing that you could increase your daily steps through walking. Walking is a great way to burn calories, and build a basic level of fitness. You could walk to work, or take a nice relaxing walk in the countryside. Walking doesn't cost a penny, and is amazing for both physical and mental health (it's one of the best ways to destress and unwind!). 
If you wanted you could track your steps using a Fitbit, however Fitbits cost money, so therefore you could just use your android phone, most phones have an inbuilt pedometer, for example on the iPhone the app is called 'Health' and it's on your home screen. If you can… aim to complete between 7,000-10,000 steps per day. 
The other thing i'm a BIG fan of is resistance bands, for less than £10 you can get 3 bands, which you can use anywhere (in a hotel room, at home, on holiday) and get a really effective workout. Check out these 20 resistance band exercises you can do to improve upper and lower body muscle definition and to shed a bunch of calories – helping you to lose weight…
# 2 Food
The other part of the equation is 'nutrition' – we all know how expensive healthy eating can be: you throw some chicken, fruit, nuts and veg into your sopping trolly… and then pay…. and then before you know it… you're down £50 and have to remortgage your house! lol! Ok, slight exaggeration…but it can be pricey!
That said it doesn't have to be, before we look at less pricey healthy foods let's look at what you need to do to lose weight….
Create a Calorie Deficit. 
That's all! You need to burn more calories than you consume. It doesn't really matter what you eat as long as you are in a deficit. Read more about the science of weight loss here. That said there are foods which are more nutritious, and will help keep you fuller for longer, mainly protein and veg. 
If you are on a tight budget you could buy things such as frozen meats/fish, cans of Tuna, frozen veg, and cheaper fruits like apples and bananas. You could also buy whey protein shakes from places like Myprotein who do really good tasty shakes, BUT that don't burn a hole in your wallet! 
The best thing to do is try and follow a nutritional plan, ideally one's that's customised, however for a tailored plan you could be looking at spending between £80-£200. For me to create a custom workout and food plan it's `£200 – not cheap! However I have also designed the 28 Day Keto Challenge, an effective weight loss program – with a diet and workout plan. I did the 28 Day Keto Challenge and lost 16lbs in 28 days…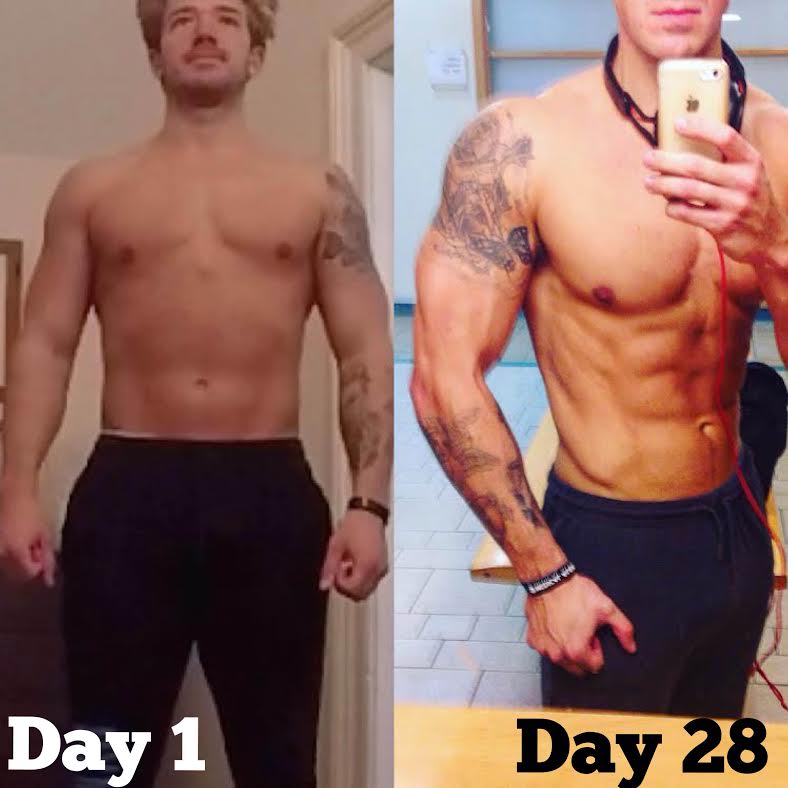 Read more about the 28 Day Keto Weight Loss Plan – it's only £9.99 too! a bargain for what you get. 
#3 Free Help
Paying a personal trainer can be expensive, at least £20-£30 per hour, and it's not feasible for everybody. However there's lots of free information online that you can use.
The trouble is that the internet is swamped full of information that isn't always correct, there are too many diet trends and marketers out there trying to sell you weight loss pills and make a quick buck! It's hard to know who to trust and where to turn. 
On my site there are over 800 free articles that you can read and learn from! I talk about everything from nutrition to workouts, to improving your mental health, and everyday performance – you name it!
Why trust me?
Well to date i've completed over 10,000 x 1-1 personal training sessions with my business LEP Fitness and have a wealth of experience and a proven track record of results. BUT don't just take my word for it check out the hundreds of testimonials on my site.
I hope this post helped, if it did please comment below. If you have any questions please drop me an e-mail at nick@lepfitness.co.uk and I will try my best to help!
Thanks so much for reading,
Nick 🙂