How to Make Protein Pancakes in less than 5 Minutes!
05/10/2015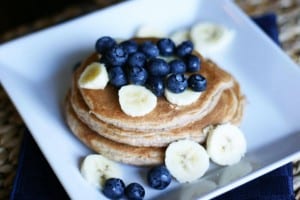 Do you have a sweet tooth? but want to stay on track with your nutrition?
If you said 'Yes!' that's awesome! I have a deliciously tasty, protein pancake recipe that i'm going to share with you.
I'll be showing you HOW TO MAKE Protein Pancakes (in LESS than 5 MINUTES with JUST 4 INGREDIENTS!!!) Oh and they COST LESS THAN £0.30p per pancake!!!
Ingredients
Water 150-250ml
Eggs x 2
Protein Powder (30g)
Oats (40g)
Toppings
Choose 1 from the following. . .
Plain yoghurt
Honey (10g)
Dairy Free Ice cream (50g) with Grated Dark Chocolate (10g)
Greek Yoghurt (75g) and Blueberries (50g)
Cinnamon (sprinkle)
Macro's
374 Calories
41g Protein
30g Carbohydrates
10g Fat
How To Make Protein Pancakes…
6 Benefits of Eating Protein Pancakes
They taste yummy but are friendly on the tummy!
Cost Saving. Less than £0.30p per pancake
Packed with tons of protein to help you repair
Take less than 5 minutes to make
Filled with slow releasing carbohydrates to give you energy when you need it the most
You don't need to be Jamie Oliver to cook them! (just look at me! I'm the worst cook in Sheffield!)
Hope you enjoyed! If you have any questions or comments please leave them below I would love to hear from you. Also if you have any tips on how to improve this recipe please share your secret ingredients.
Nickeh 'Krispy Kreme' Screetoni