How to Read 52 Books a Year & Save Time . . .
09/06/2015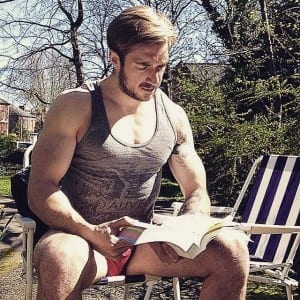 Reading 52 Books Per Year is much easier than you think, let me quickly explain . . .
Reading provides us with knowledge, power, insight, inspiration, it helps us cultivate our own ideas and makes way for interesting social interaction: such as starting conversations.
Reading enables us to learn about the world in which we all live, we can learn about space, philosophers, history, health, culture, religion, you name it . . .
It wasn't until I came to Sheffield University that I started my love for reading. I was a poor reader in school and would often go redder than a baboons bottom when asked to read aloud to to my unforgiving class mates. Before uni I had read less than 3 books my entire life (all 3 part of the Goosebumps kid series!).
Since landing in Sheffield, 6 years ago I have developed an insatiable appetite for books, it's one of my favourite hobbies aside from running my personal training business and taking care of my health.
The book shelf continues to grow every month. I tend to buy around 5-8 new books per month. It drives my girlfriend round the bend. Space is running out! The past 6 years I have completed 231 books. Sadly I keep a diary of every book I have ever read!
I set myself a target to complete 52 books per year (1 book per week) utilising some of the tips I am about to share with you so you can learn how to fit in reading 52 Books a Year, it's much easier than you think.
How to Read 1 Book A Week 52 Weeks of the Year
1) Audiobooks : If you listen to 30 minutes per day Monday-Friday you'll earn 2hrs 30 minutes of reading each week (10hrs per month!). That works out around 1 book completed every 2-4 weeks (depending on length) or 12-24 books per year.
You can multitask with audiobooks, for example I like to listen to them when I walk to the gym and walk back (30 minutes per day). Or If your like my dad you could also listen to them on your work travels i.e. trip to work.
2) Toilet Book : What? Toilet Book? Yep you heard me. Place a book on the toilet and read a page every time you . . . ** insert rude word **
Let's say your bowels are healthy and you excrete waste 1-2x per day, that is between 365 – 730 pages read each year or approximately 1-2 books per year.
3) Bedtime Reading : Spend 10-30 minutes reading every evening before you go to sleep. Not only will you dream more! but reading in bed will help you to switch off and unwind from the days events. I started to do this last year and my sleep is 10x better. Too many of us spend time on computers and phones before going to bed, the light causes disturbances with our hormones that help us sleep. Read in a low lit room and I guarantee you'll have a better nights sleep and get smarter.
4) Spending 10-30 minutes reading each night gains you between 70-210 minutes per week of reading time. Approximately 1-3 books per month.
5) Holiday Reading : Complete 1 book per holiday, the average UK worker receives on average 28 days off per year (4 weeks) reading 1 book per holiday would total 4 books per year.

The Maths Behind Reading 52 Books Per Year
Let's say you complete:
2 audio books per month. 24 books per year (half way there already!)
1 Toilet Book per year.
2 bedtime reading books per month. 24 books per year
3 Holiday books per year
Total = 52 books per year!
Keep an eye out for my Top 50 Favourite Book List coming soon and make-sure to sign up to the newsletter below so you never miss out on a post . . .