Icy Bundle of AWESOMENESS! How To Make Healthy Ice Lollies…
25/04/2015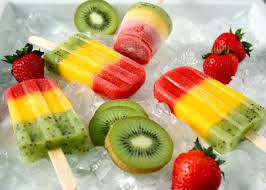 As of the hot weather thought I would share this icy bundle of AWESOMENESS!
2 cups Kiwi
2 Cups Mango
2 Cups Strawberry
Take individual fruits and blend with a little water to make a paste. Take your mould then simply layer each fruit on-top of each other and leave in a freezer for an hour. BOOOOM !!!

I hope you get some Vitamin D & Enjoy your healthy ice lollies this weekend!