Interview With Pro Fitness Model Daniel Luke
07/04/2015

Who is Daniel Luke?
Daniel Luke is a 25 year old Personal Trainer based in Sheffield, UK. Owning a successful one to one and online personal training business, #dlptonline, he has helped countless people change their lives, get in shape, prevent health issues, you name it! Daniel took his passion for the industry to the stage in 2014, winning the Miami Pro Fitness Model & The Miami Pro Overall, earning him his MP Pro Card. As well as taking 3rd in his first Muscle Model competition at the WBFF European show! Other than the gym, Dan loves to work and help his team develop as well as spending time with his loved ones travelling, going to the cinema and eating out! Welcome to my Interview With Pro Fitness Model Daniel Luke . . .
How Long Have You Been Pumping Iron?
Around 3 years nearly! Before that I trained and fought in Semi Professional MMA before becoming a Personal Trainer!
What Has Been The Toughest Part Of Your Journey So Far?
I first competed, for the first time, in 2013 at the Miami Pro show at St Albans! I didn't place, I didn't get a call out, I didn't get a look in! My feedback was I was way too skinny and needed to get bigger! After working so hard for this I was gutted to say the least! From that point on I worked year round to grow a physique the judges and myself desired, with the constant feeling of not placing again in the back of my head. A year later I returned to win and win the overall! If your not first you last, I'm very competitive!
A Day In The Life Of Daniel Luke : What Does It Look Like? 
I try and get everything possible out of my day and take each one as a new opportunity to be better than yesterday! I normally wake up around 5am-6am and then started my day with either emails to clients or fasted cardio, sometimes do emails whilst doing cardio! Then in between the hours of 8am & 10pm I manage to contact clients make sure things are well, set up new starters of #dlptonline, train myself as well as any one to one sessions, prep food for the day (6-7 meals daily), then a little time to study. Sound busy, but I love doing it and its easy to get motivated when clients are talking to you and their expressing happiness and are grateful for your service!
If You Could Only Take 3 Items On A Desert Island What Would They Be? 
Phone for twitter & selfies, Dumbbells to train & FOOD, well you know!
If You Could Eat Any Food Without Any Detriment To Your Physique. . . 
Love a good burger and chips! So cant beat FiveGuys, Byron Burger, Almost Famous, Smoke Haus places like that! If I have a sweet tooth, its all about cookies, placed in microwave so their slightly soggy 😛
Name 1 Secret That People Do Not Know About You?
I'm not really ginger, just pretend to be 😉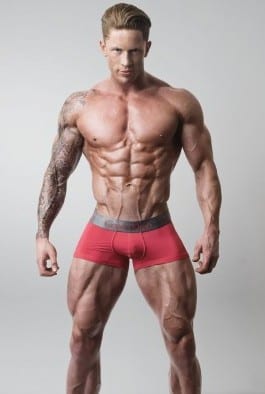 Name 1 Supplement That You Cannot Live Without? 
This used to be my whey isolate buttttt! I think I'll name Gaspari's Glycofuse! I swear by this thing now!
What Was The Last Song You Listened To . . . 
David Guetta – What I did for Love
If You Had To Start Out From Scratch What Would You Do Differently? 
I would have hired a coach from  day 1, invested in a trainer who could help me progress but also educate me as well! As well as this I would have purchased books and learnt the things I now know, but at a younger age! All I new growing up was lift up and down, nothing about muscle contractions, tempos, methods etc never mind the nutrition side of things! I think investing in a good coach or good coaching system and educating yourself you can progress MASSIVELY at a much quicker rate!
Who Do You Look Upto In The Fitness Industry And Why?
I like the guys that not only look amazing, but the guys who have a mindset above the rest! The people who are great on and off stage, fitness and business! Helping others achieve their heights whilst achieving theirs!
What Advice Would You Give To People Starting Out?
Set goals! Don't just lift or train, you don't have to get on stage but have an image of how you want to look, or even perform. Then list the steps of what you need to do in order to get that and be consistent! The smallest things done repeatedly are what makes something/someone successful! Ask as many questions as you can, you can never learn too much!
Future Plans . . . 
May 31st I plan on winning my WBFF Muscle Model Pro Card, where I placed 3rd last time! I know I'm capable so providing it goes to plan, I then want to compete on a world stage against the cream of the crop! Other than this I plan on a few photo shoots after the completion then focusing on my online business #dlptonline helping it expand and getting more and more people on board helping them unlock their potential!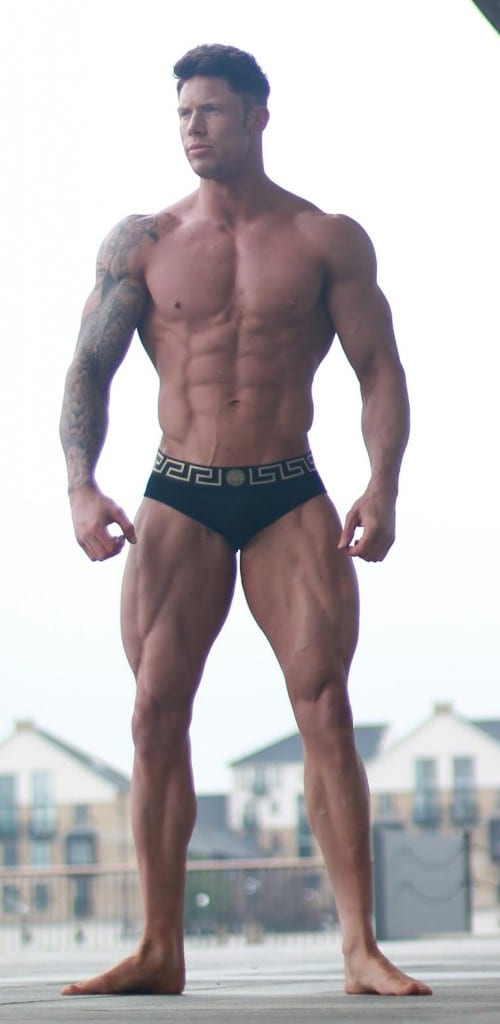 Where Can People Find Daniel Luke? 
Twitter: @danielafsar
Facebook : Daniel Luke Fitness & Personal Trainer
Instagram: daniellukefitness
Email: daniellukefitness@gmail.com