Kirsty Loses 13 lbs in Just 28 Days! Here's How She Did It…
13/02/2017
Bye Bye 13lbs!
It's amazing what can be achieved in just 28 days, especially if you put your mind to it! Kirsty successfully managed to lose a whopping 13 lbs in less than a month. High Five!
How Did Kirsty Lose 13lbs?
Last summer (2016) I designed a 28 Day Keto Challenge, to see how much weight I could lose in under 1 month. At the end of the challenge i'd lost 16 lbs and looked very lean compared to when I started.
I had always wanted to try a ketogenic diet plan but I never had the courage and always made excuses to delay taking action (sound familiar?).
I finally did it and I was blown away with the results. After my weight loss success I decided the plan could help lots of people and wanted to create a mini ebook, sharing my success formula.
I wrote a blog on my experience and also made a vlog (a video documentary) , then finally I designed an e-book – sharing the exact method I used to annihilate body fat.
Once the book was completed I made it available to purchase and was blown away at the response of people wanting to invest in the plan.
Kirsty bought the plan just after Christmas and then the other day I received this message…
What is the 28 Day Ketogenic Challenge?
I wrote a full post on this – which can be found here. In the post I talk about ketogenic dieting in detail, I share the pro's and con's and give an honest account of what to expect.
But to briefly explain the 28 Day Keto Challenge… it's basically a very low carb diet, with meals consisting of high protein and fat based foods and like all successful diets it works by creating a calorie deficit.
I've found over the past 5 years of doing personal training sessions with clients that over consumption of carbs is very common. When we over consume calories and under exercise we gain weight!
I've found that by temporarily removing carbohydrates out of someones diet for 4-8 weeks helps people to lose weight and acts as a great detox, and curbs appetite – which  prevents over eating (which means more weight loss!)
The ketogenic diet also has many other benefits, and the feedback i've received from people who've invested in the 28 Day Keto Challenge so far is…
Rapid weight loss
Far less bloated
Less hungry
Healthier looking skin
Quicker recovery from workouts
It's Challenging I'm Not Going To Lie!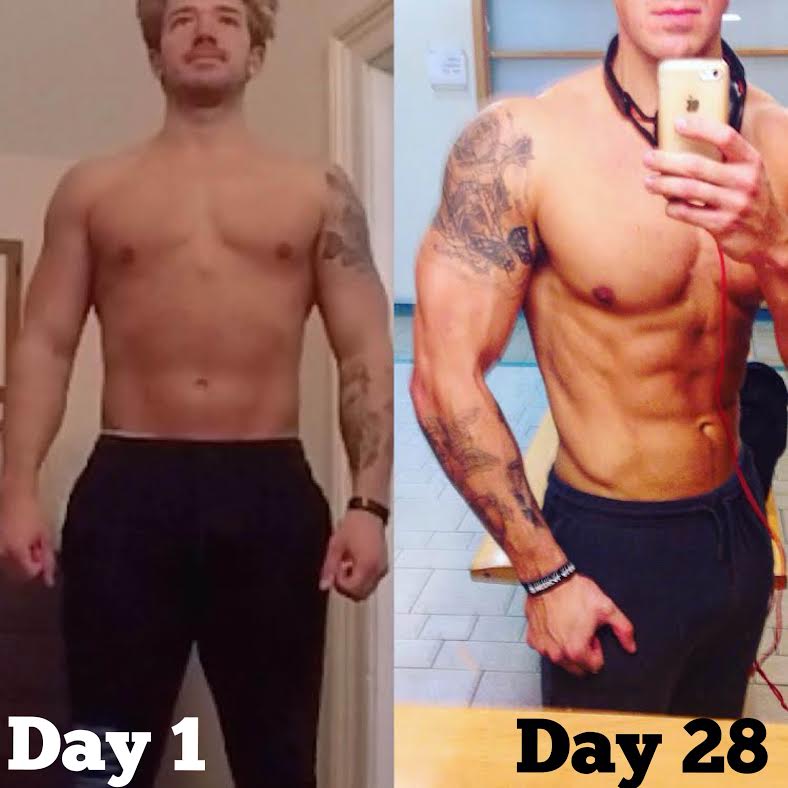 I base my business ethics on honesty and integrity and i would be totally lying if I said the 28 day Challenge was easy, it isn't! You have to be really organised and be willing to fully commit in order to get great results.
The average weight loss for those who've completed the plan is 12lbs (nearly a stone!) but you have to put in the work and complete the workouts.
It's an all or nothing plan and for those of you who are 100% serious this will be a great investment. If you can't devote 100% for 28 days it's not for you – hey just being honest 😉
But for those of you looking for a quick result and a positive kick start to your weight loss endeavour I would highly recommend giving the Keto Challenge a blast.
What's in the 28 Day Keto Challenge? 
A 28 Day Written Plan of action – A personal road map guaranteed to achieve success
A Ketogenic Diet Plan – A meal plan to help you shed layers of fat
7 Day Training Plan for the gym
7 Day Training Plan for at home (if you don't want to go to the gym)
A Post Keto strategy for further weight loss (once you've completed the 28 days)
WARNING: the 28 Day Keto Challenge is not suitable for vegetarians.
Just after Christmas I reduced the 28 Day Keto Challenge price down from £19.99 to just £9.99! I'm now going to temporarily extend this offer, so you can still pick up the plan for £9.99 (saving 50%).
For those of you wanting to shift 12lbs of unwanted body timber…
You can swipe up your copy of the plan by clicking on the red button below…
BUY THE 28 DAY KETO CHALLENGE FOR JUST £9.99!
If you don't have a Paypal account or if you'd prefer to make a bank transfer please e-mail me – nick@lepfitness.co.uk and i'll email you the details.
Here's to less body fat and a healthier, happier you!
Thanks for reading,
Nick