Live Q&A With Nick …
04/11/2015
Last week I gave LEP members and followers the opportunity to ask Me (Nick!) anything relating to health, fitness and well being. I promised to answer every question otherwise i'd donate £100 (GBP) into their bank account and run to Tesco in a Borat costume . . .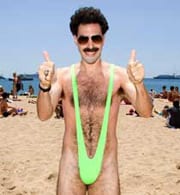 Yep! not a good look, thankfully that's not going to happen! I answered every question but 1! A very inappropriate question (No I don't do Naked Naturalist Sports Massages Gary! but thanks for asking!).
Anyhow here's the Live Q&A . . .
If you have any more questions leave yours below!
Thanks,
Nick