What's the best protein shake?
15/02/2019
There are literally hundreds (maybe even thousands!) of protein shakes on the market. I've had some amazing ones, which taste delicious and digest with ease…
BUT then on the flipside i've also had some god damn awful ones lol! Those that taste like cement (not that i've ever eaten cement!) and have made me throw up. I remember buying one from Holland & Barret back when I was at college and I literally threw up every time I had it, in fact I had nightmares about it, and it still haunts me to this day! lol
Protein shakes aren't cheap, and I don't want you to waste your money spending £50 on some shake that tastes like cat wee! 
BUT Don't Worry…
You're in good hands.
I've tried so many different protein shakes that i've lost count. I want to help you, and stop you from wasting your hard earned money, so therefore…
I'm going to share with you the 6 best protein shakes on the market…
Important – I just want to clarify that i'm not being paid to endorse the shakes that i'm about to recommend (I wish I was though!) this is literally just my opinion. I've used the shakes below and have also recommend them to my personal training clients, who all seem to like the taste and quality too.
#1 Optimum Nutrition Gold Standard Whey 
I've been buying Optimum Nutrition Gold Standard Whey for years now (probably at least 8 years) and it's definitely my go to for a 'whey' protein shake. It's a great quality product, with texture like sand – not some lumpy rocks that don't mix – like some of these cheap protein shakes! 
I've tried lots of different flavours, chocolate, strawberry, banana, double chocolate, vanilla, etc. From my experience (although I guess it's personal preference) I like chocolate and banana, they taste great and make for a great post workout shake. I also like to use them as a meal replacement, where i'll blend…
300ml unsweetened almond milk
50g whey protein 
100g dairy free Ben & Jerrys ice cream 
30g peanut butter 
#2 Promax by Maximuscle 
I remember Maximuscle being the first ever protein shake that I bought. It's very tasty (although a little sweet) and is easy to mix. The only downside is that I find it a little expensive and a tub doesn't last very long. I think whilst the quality and taste are very good, they over charge based on their fancier marketing, and athlete sponsorships. 
BUT If you're happy to pay for a more premium product then it's a defo top 5 for me. 
#3 USN 100% Premium Whey 
I tried a sample of this when I went on one of Phil Learney personal training seminars. I loved the taste and quality of ingredients so I ordered some and wasn't disappointed! The USN protein shake is easy to mix and great for making protein pancakes with. I particularly like the strawberry cream flavour. It's also a nice flavour to mix into your porridge oats, this way you can bulk up the protein content of your morning meal. I recommend adding 25g to your breakfast porridge. 
#4 Form Performance Protein 
This product is perfect for vegans. Although i'm not vegan I've tried this, thanks to one of my vegan clients giving me a sample and it tastes great, especially the chocolate peanut butter flavour. 
I've tried hemp and pea proteins in the past and no offence but some of them taste like….well something you wouldn't even give to your worst enemy! lol! They aren't pleasant and not worth the money. 
#5 Mutant Mass 
This is definitely my go to for when i'm bulking and trying to add mass to frame as quickly as possible. There are only so many pieces of chicken you can eat before feeling full! I find that high calorie shakes like Mutant Mass are a great way to boost your overall calories without much fuss. 
One thing I will say though is that you need a BIG protein shaker, in order to get the recommended dose in…it takes up half of your protein shaker and it can be difficult (sometimes impossible to mix). I tend to use a big blender and mix with almond milk and ice cream. 
Each shake for me comes in at a whopping 1200 calories – thats about a third of my calorie intake for the day when i'm trying to bulk up. 
#6 The Plant Era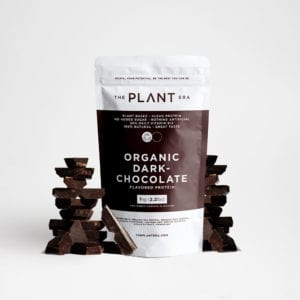 If you're looking for a delicious plant-based protein powder with 21g of protein per serving, I recommend trying The Plant Era protein shake. Having this shake in the morning, combined with a side portion of nuts (20-30g) is a great way to get in some essential fats and proteins. This morning I had a scoop of plant-based protein powder and 30g of brazil nuts – and it's kept me full for six hours. The organic dark chocolate Plant Era powder would go nicely in a protein milkshake or protein pancakes. 
Protein Powder Ideas…
There are lots of ways to use whey protein, for example you could have with water (just make-sure to mix in well), or you could have a protein milkshake (ideal for adding in calories).
Protein shakes are relatively inexpensive, all you need is the powder, and a good blender, good blenders can be expensive, so check out vitamix alternative for some excellent options.
You can also use protein powder to make tasty protein bars. There are plenty of great tasting recipes which can be found online.
Thanks for reading,
Nick 🙂