Mike Drops 26 lbs in 8 Weeks Using Only 10kg Dumbbells…
15/03/2021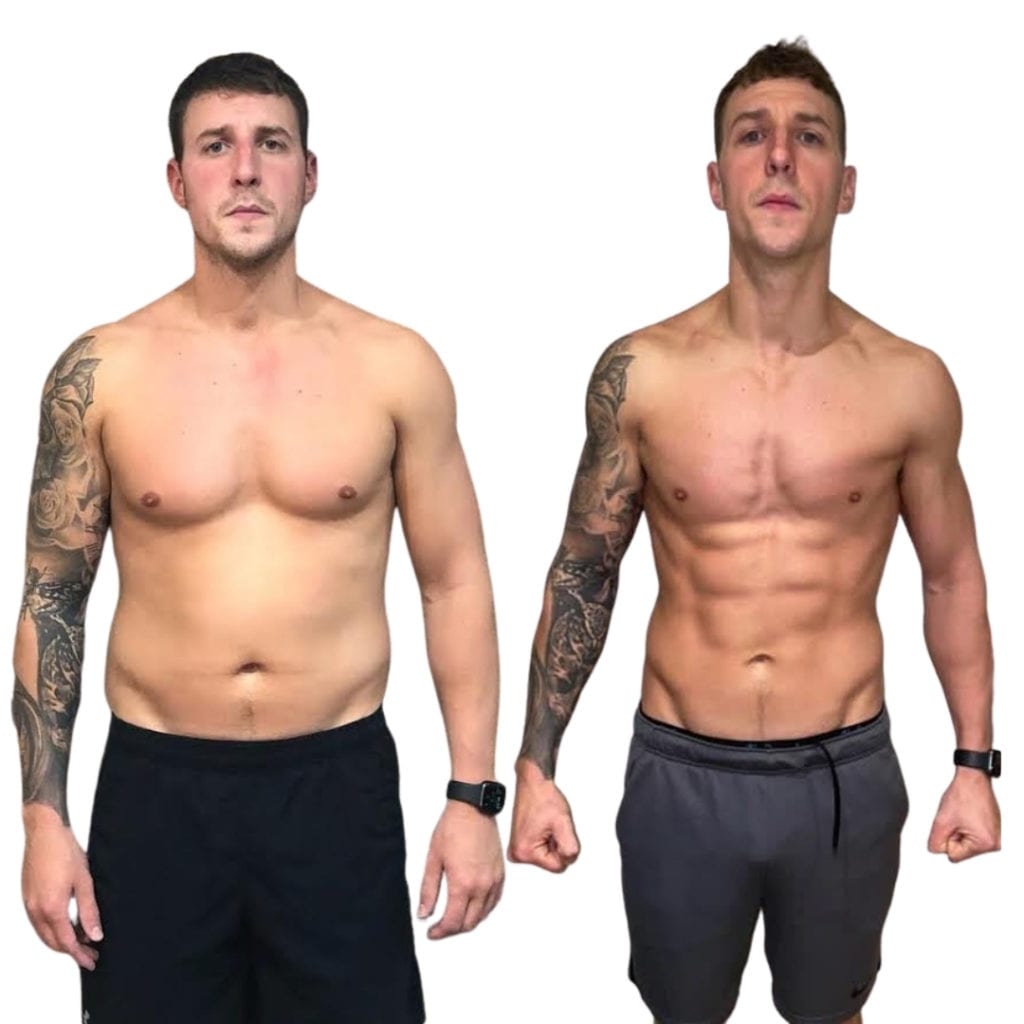 Mike and I started working together back in January 2021 – we had everything ready to go, his food and training plan…
BUT then…
LOCKDOWN THREE HAPPENED.
On the 4th of January, Boris Johnson announced another national lockdown, meaning the gyms had to close…
AGAIN.
I called up Mike the next day and could sense his disappointment. I wasn't feeling too good either, having to close the LEP Fitness personal training studio for the third time in less than a year!
After sharing our frustrations, we came to a conclusion that…
We had two options:
Wait for the gyms to reopen and start at a later date 
Work with what we had and do the best we could with the resources available 
We chose the latter.
What's impressive about this body transformation isn't the amount of weight lost (26lbs) or the beach body shape Mike has managed to get himself into…
It's the circumstances with which this body transformation has been achieved…
ZERO Equipment Other Than 10kg Dumbbells…
Mike had very minimal equipment – a pair of 10kg dumbbells and still managed to achieve a superhero physique transformation.
I've been blown away at what's possible with home training. Yes, it's not as good as being in the gym, with hundreds of different machines and rows of weights…
BUT it can still work.
AND
EXTREMELY WELL.
It's not just Mike's body transformation, BUT all of the other clients I've worked with over the last year who've achieved head-turning results despite having access to very minimal gym equipment.
Shout out to the following Online Coaching Clients…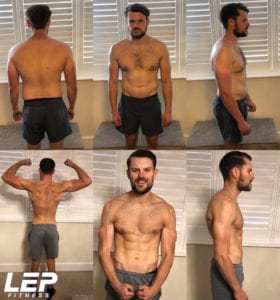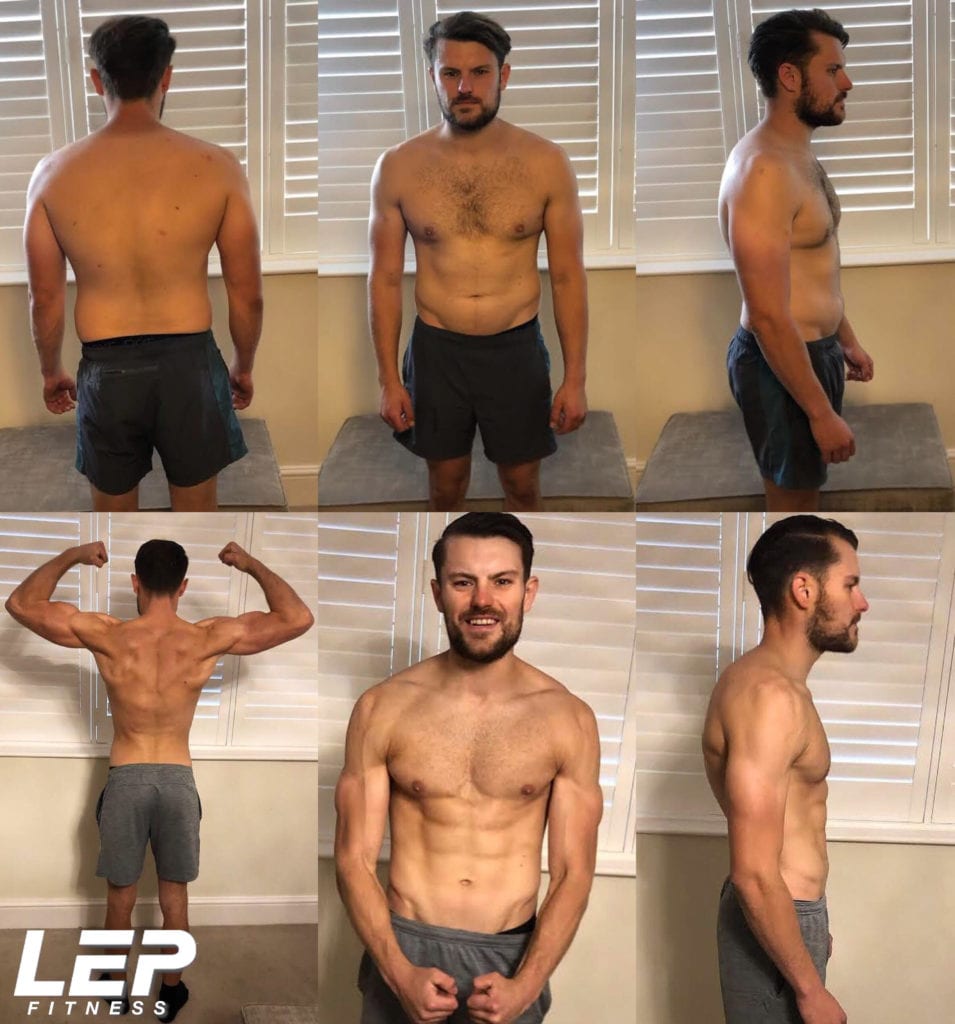 Sam – who lost 10kg in 8 weeks. Read Sam's story here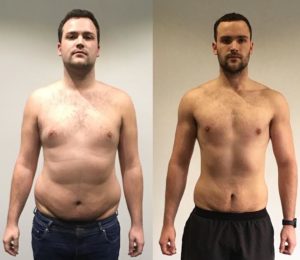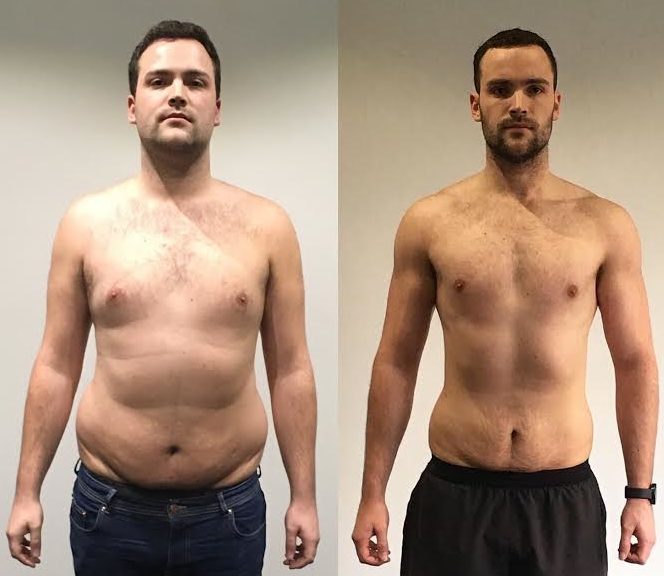 Jan – who lost 70lbs (5 stone) in 11 months. Read Jan's story here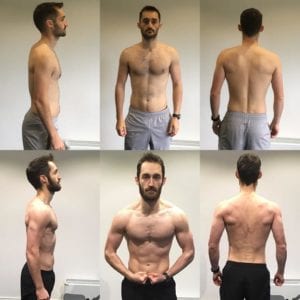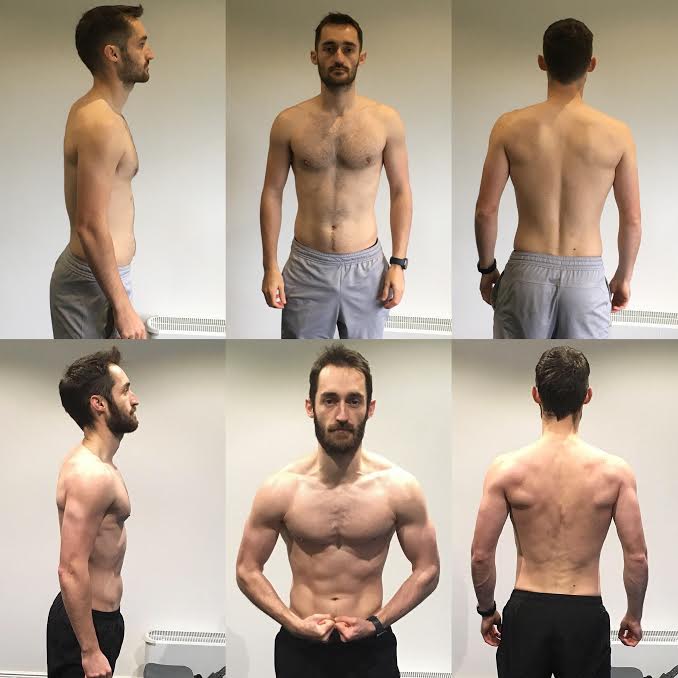 Liam – who achieved a lean beach body in just 6 weeks – read his story here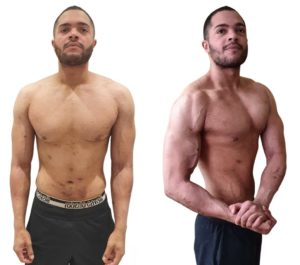 Jazz – who lost 15lbs training in a garage gym – read Jazz's story here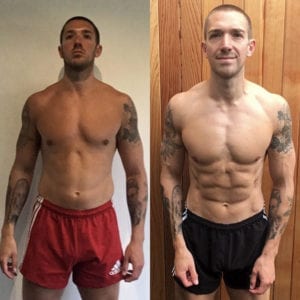 Me (Nick) – I also took myself through an 8 Week Body Transformation Challenge
Online Coaching – The 8 Week Program That Worked For Mike…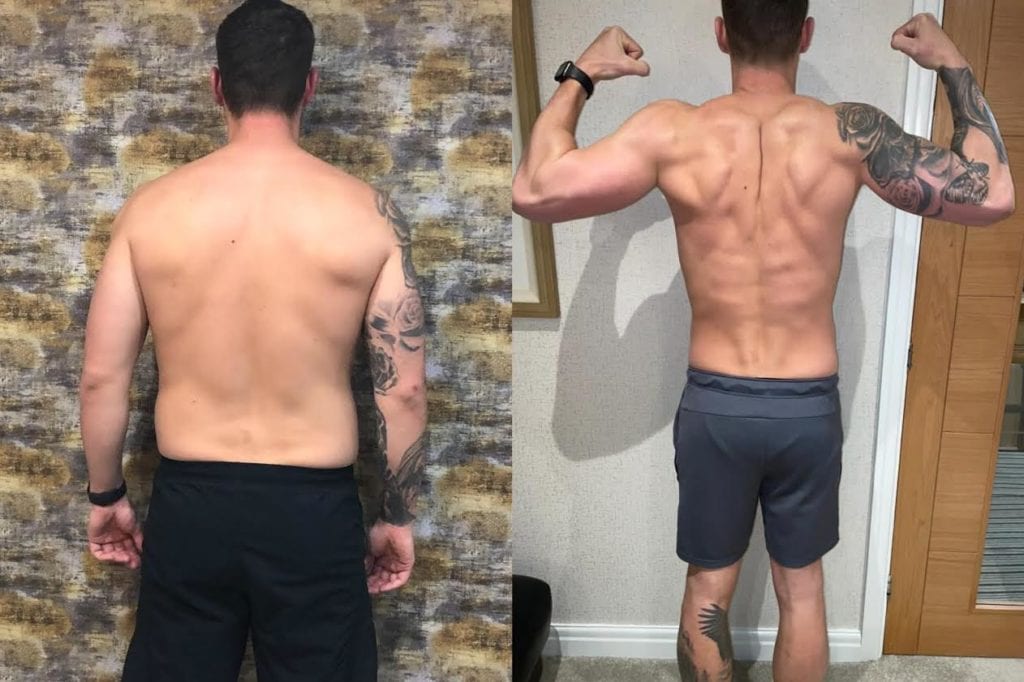 Mike completed an 8-week online body transformation program. It's essential to realize the difference between Virtual Personal Training vs. Online Coaching.
Virtual Personal Training – is where you do a 1-1 session via Zoom.
Online Coaching – is where you receive a training and meal plan and do weekly check-ins. 
Mike opted for Online Coaching…
I designed Mike a bespoke meal and gym training plan. As soon as the gyms closed again (4th of Jan), I created a new home workout plan for him to follow.
Mike has followed both the meal and training plan to the letter, and I've made minor tweaks each week at the check-ins to keep him progressing and getting results.
The weekly check-ins are the 'glue that holds everything together' and why clients avoid plateaus and get incredible results.
You can't just follow a one-off meal and training plan and expect to get the same level of results. It would be best if you had a highly skilled coach who can tell you what tweaks to make at the right time – it requires much more skill and experience than many people think. It's also why so many coaches fail to get results with clients and why most one-off plans never get long-term results.
The Training Plan…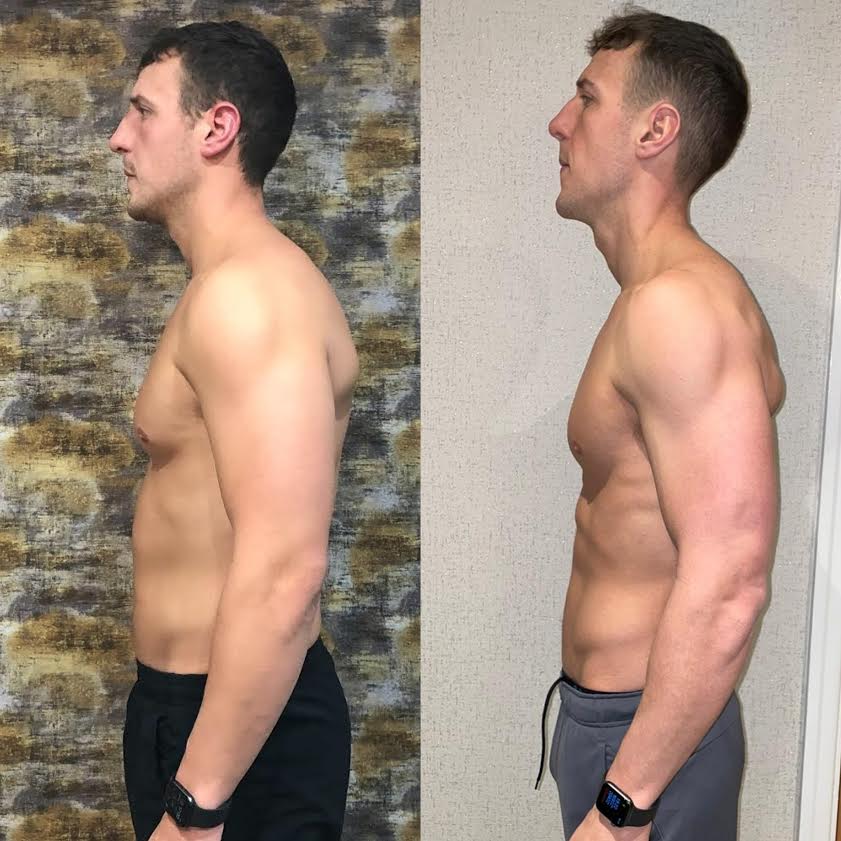 There's only so much you can do with a pair of 10kg Dumbbells, BUT as Mike and I have demonstrated, you can still get JAW DROPPING results over a short period.
Whenever you lack resources such as gym equipment, there are other areas you focus on instead, for example:
Mechanical Tension – slowing down your reps, taking longer on the negative portion (lowering) of the rep.
Squeezing – making sure to place more tension on the working muscle and squeeze extra hard to make up for the lack of resistance.
More Volume – adding more sets and reps to fill up the muscle with more blood and accumulate more fatigue. 
Advanced Training Methods – such as drop sets, giant sets, rest pauses, supersets, etc. 
Reduced Rest Time – taking less time to rest in between sets to build up more fatigue and intensity
I used a combination of the above with Mike and set up his training program very specifically to get these results. And as the results show, with the right strategy in place and a committed client…
AMAZING RESULTS HAPPEN.
Ready To Start Your Body Transformation?

Would you like to achieve a JAW DROPPING body transformation like Mike?
If you said YES…
Please head over to my online coaching website – have a look around the site, check out the results, AND get SUPER EXCITED because, in 8-12 weeks, it could be you walking around looking like a Movie Star.
Speak soon,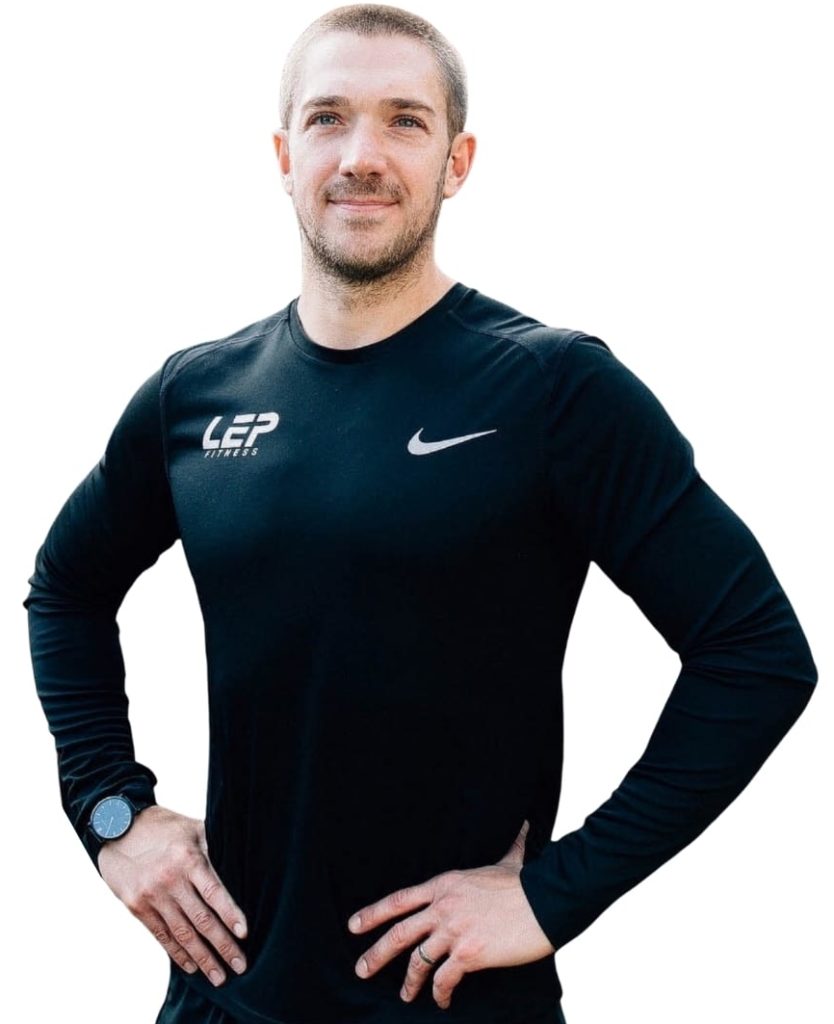 Nick Screeton (Founder of LEP Fitness & LEP Life)